CHRISTIAN WINS GLO NAIJA SINGS SEASON 3!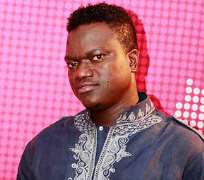 After weeks of thrilling performances and all, Abuja based upcoming singer Christian has become the winner of Glo Naija Sings season 3!
Christian was announced winner, Sunday, November 13, 2011 at the tail end of a spectacular finale.
Christian
The grand finale was spiced up with guest performances from diva Onyeka Onwenu (who performed with the top 10), Idols West Africa alumni Omawumi, Season 2's winner Casey and the host of the show Darey. Singer/producer eLDee also made an appearance.
It was also fun to watch the three finalists Vicky, Mattade and eventual winner Christian pair up with Mo'Cheddah, Jaywon and Davido respectively as they each performed duets.
Resident judges Onyeka Onwenu and Olisa Adibua watched on as the the trio serenaded the crowd.
The big moment then arrived and Christian was announced as the night's winner!
As announced, Christian walks away with the grand prize of $100,000. (One Hundred Thousand Dollars).