STAR ACTRESS MONALISA CHINDA EJECT NSE IKPE-ETIM FROM HER LEKKI HOME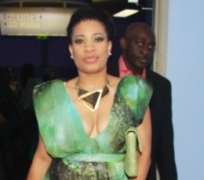 Fair skinned Nollywood beauty,Monalisa Chinda recently sent her colleague and friend Nse Ikpe Etim packing from her Lekki,Lagos home.
Insiders say Nse who was living in Abuja used to put up with different friends and sometimes passed the nights at hotels whenever she visited Lagos for movie productions until Monalisa who was accommodated by Emem Isong when she parted ways with her ex hubby,Dejo Richards found a new apartment and offered to give Nse a room to live at her Lekki apartment.
Their friendship was a smooth ride until the girls talk and cat-fights took centre stage.
Recently our source hinted,Nse was accused of bad mouthing Monalisa before a common elderly friend of theirs who in turn spilled the bean to Monalisa who was infuriated and felt used.
On getting home,the source continued,Monalisa sent Nse packing not minding the time of the day.With nowhere to go,Nse moved into Four-point by Sheraton Hotel where she lodged for a couple of days before concerned friends salvaged the situation and she finally got an apartment of her own in Lagos.