INI EDO, AFAM OKEREKE, OTHERS ARRESTED, DETAINED AT AGUDA POLICE STATION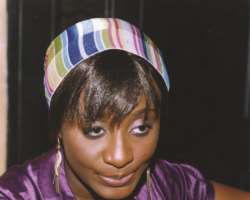 News is reaching us from the quarters of one of the top movie producers in Nollywood that the cast and crew of Stanley Eboniere led by Ini Edo, Afam Okereke and others have been arrested and detained for God knows what at Aguda Police Station by Sanya Street area of Lagos. As they were said to have demanded for the offence committed to warrant an arrest, the Aguda Police station's D.P.O., we gathered, violently arrived the scene like a lion that is starved of food and ordered his men to 'drag' everyone of them to Aguda Police Station where they're apprehended.
According to the report, the producer of the movie, Stanley wanted to shoot a police station's scene and as law demands, went to the particular police Station at Sanya Street to seek for their permission but met a stumbling block as the junior officers around, we learnt, informed them to go get a permission from Police Headquarters and that their D.P.O. was not around to attend to such matters.
Disappointedly, Stanley and his director, Afam Okereke decided to wait somewhere around till the D.P.O. surfaced. Unexpectedly, out of no where, some policemen came around where their van was packed, about a hundred metres away from the station, demanding to arrest the cast and crew in the van.
Before one says hello, the supposed to be protectors of lives and properties turned out to be rogues as the started harassing everybody including Nollywood star actress, Ini Edo whose marriage to Philip is said to be going through trouble waters at the moment. (That's a story for another day) Having dragged the issue for a while, the mobilized policemen eventually took everybody to the station where they were apprehended for hours without any reason for their arrest.
As at the time of filling this report, Ini Edo and other cast and crew are said to have remained in the Police custody while Mercy Johnson, Funke Akindele and Halima Abubakar escaped through divine intervention as they said to have not surfaced at the location where they were expected to play very significant roles. We shall update you as soon as we get the full detail of the arrest.