Papa Ajasco: I'm glad to be back on set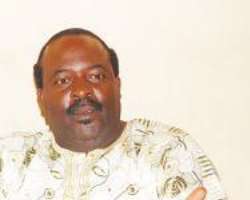 COMEBACK lead actor in the popular television drama, Papa Ajasco, Abiodun Ayoyinka, has helped bring to life, the comic character which, incidentally goes by the... name. Following a disagreement with his producers and directors, Ayoyinka and some foundation members of the cast were eased out and were replaced by a new set. Though the replacement did not do badly, the producers were forced to bring Ayoyinka back with a bang: A series on the life and times of the late music star, Michael Jackson. Last week, the thickset television star stepped into the corporate headquarters of the Nigerian Compass and spoke with HAZEEZ BALOGUN, YEMISI ADENIRAN and MOYO ODEBIYI. Excerpts:
You just lost your dad. Can you tell us a little about him?
My late dad was a handsome man, and I am also handsome as you can see. When he was alive, he was working with the Ogun State Government's Ministry of Agriculture. He was an educated person.
Did he in anyway influence your acting career?
I won't say no, and I won't say yes. I chose my career and he accepted it, unlike some other parents who choose their children's career.
Where are you from?
Ipara-Remo in Ogun State.
Recently, your career was almost brought to an end abruptly. What happened?
Well, that is bygone really and I don't want to talk about it. It was misunderstanding somehow, but I thank God.
The misunderstanding was between you and who?
We and the producers. Not really, I was trying to use a 'short-cut' at that time. I went for a show in Benin and I was not supposed to use Papa Ajasco's character there. The producer got to know, and he said I should excuse him. So I had to go and beg.
You didn't mention if it was your fault or not?
Well, I won't say so and at the same time I would say so. At the initial stage, I said I wasn't going to say anything on that
While your suspension lasted, what were you doing to make ends meet?
I work with the Lagos State Government. I work in the Ministry of Home Affairs and Culture, so I am still a civil servant, and I have been very busy.
How have you been coping without your former colleague, Mama Ajasco of blessed memorY?
Well, she's late now. In fact, I felt her presence in my life because anytime we were recording, Mama Ajasco would advise us against taking wrong steps.
How about the present Mama Ajasco, has she been able to fit into that position?
Well, she is coping, and gradually I know she will get there
While you were on break, how would you rate the performance of the other Papa Ajasco compared to what you were doing?
I have been asked about how the man was doing so many times and I said I would never judge. Whether he was doing it right or wrong, it is the audience and our fans out there who would judge that. But I just know that while he was there, he was doing it well.
Recently, Moladun died, and there are so many rumors that artistes are dying because they are going into occultism, what is your take on that?
Death is a normal thing. Just like when you get to your bus stop, you must definitely come down. This kind of thing can happen to anybody in any profession, but because we are stars it usually spreads. Lawyers could also lose about 10 of their colleagues at the same time, non popular people too would die and people would not know. So my belief is that everybody must come down one day when it gets to our turn.
We've been seeing what you are doing for Micheal Jackson, what about Gani Fawehinmi who was nearer to Nigerians?
Well, about Gani, it is the producer that will answer that question. It depends on the producer. As you know, I am just an actor. If you call me to come and take the role of Gani Fawehinmi, I will interpret it very well and that's the role of an artiste, if you call me to come and take the role of any character, I will interpret it perfectly.
What would you say about this hunger strike that your colleagues are going into? Are you also on hunger strike?
(Laughs) Pirates are killing the industry and it happens all over the world, even America and the only thing we have to do is to cut it down. We can't fight them all.
Would you just fold your arms and let them have their way?
No. That is what we are trying to do now, we must at least tell the whole world that we are suffering from these pirates.
There is this controversy that Yoruba artistes are not part of Nollywood?
That is a big question. Nollywood deals with actors and actresses and all that, and it's meant to be an organisation of artistes. I think Jide Kosoko is working on that.
Is it that you people are inferior to them or what is really the matter?
Not really, I don't know.
How has your experience been, working as a civil servant and then acting? Haven't you ever been queried?
Not really, most times I take my leave and go for my recording.
Do they know about this?
Yes, they know. Papa Ajasco series is what everybody knows about. The Governor, commissioners know about it and enjoy our programme, so at any time I seek permission to go on leave, they allow me.
Stage play is dying in Nigeria, what are veterans doing to revive the act of watching stage plays?
I don't believe it is dying. I think if the state government or the Federal Government can build theatres all around local governments, and artistes go there to stage shows and all that, it would be revived. The government should just try and come to our aid by building film houses all over, then people would still come and watch films. But the only place we have is national theatre, and it would be a little bit difficult for somebody in Badagry to come to the National Theatre to watch a play. But I believe stage production is not dead and can never die.
My belief is that stage production and films are quite different and one can make money in films and stage productions. I just believe that stage productions will soon come back and it is in the hands of we the artists, the directors and the producers. It might be a little difficult before it comes back, but I know it will come back. And that is why I said we need all these little theatre arena so that people can watch stage plays. And it has to be all around because like i said people cannot come all the way from Badagry to the National Theatre to watch plays till 9 pm. That security is not there, so people would have to stay back.
Back in the 80's, you used to be a stage performer, a dancer and all sorts. What is happening now?
I'm a performer and I will always be. Up till now, I still dance, I sing, and there is nothing about theatre I don't know, set construction, drumming and all that. But I don't have much time anymore because I work with the state government, and I cannot leave my job all the time, but I still honour some producers or directors when they call me. Right now, I'm am still a stage performer, I attend festivals, and I even just came back from one.
Papa Ajasco is a character that loves women very much. Is that so in reality?
(Laughs) My real life is different. I'm a complete gentleman. I am always a gentleman, but once I'm on stage, I always love women.
How come you act that role perfectly?
I can act any role perfectly as well.
How do you feel being stereotyped because we only see you acting the role of Papa Ajasco on screen. Won't it be difficult to take other roles?
I can play any role. There was this programme on NTA that I was doing, that is Sandra, and I have also done a lot of Yoruba movies. If you give me the role of a Chief, I will play it very well.
How often do you shave your hair, is it only when you are going for production?
Its getting bushy now, but I will shave it off. I look more handsome when I shave my hair, and it is not only when I am going on recording. I shave my hair when it is time.
Must you always tie wrapper when taking that role?
That is the characterisation.
Did you miss 'Papa Ajasco' while you were away?
Of course, when I was out, I really missed 'Papa Ajasco', because when I tie my wrapper and I put the glasses, I get to the height. I really missed taking the role.
The 'Papa Ajasco character on screen is a very wealthy man. Can you tell us how rich you are?
Well, I am not a millionaire and I am not a billionaire, but I am comfortable. I will say I am not too rich.
Is it not disheartening that Nigerian artistes are not rich unlike the likes of Bill Cosby?
Nigeria is different from the U.S, so we don't have to compare the two. Like Professor Wole Soyinka, we know what he does, and what he does is what we are doing now. So we would go on like that and the new generation would take over. So people should stop thinking that what they see in movies is what we have in reality, it is not like that, what we are doing is only make-believe. But majority of us are okay.
What would you say about the poor quality of production in Nollywood?
There is nothing we can do about that. It depends on the producers. If you have a little amount of money, and you call the the professionals, they won't come to terms with the money, so you have to call the upcoming ones, and whatever they do, you have to use it and sell your film out in order to make your money back. But I just believe that the Censors Board that we have should look into such and say that this particular film has no standard, and should be ruled out. Acting is not really the thing, anybody can act as long as you are able to deliver.