Though I have the looks for acting, I'll stick to producing –Vivian Ejike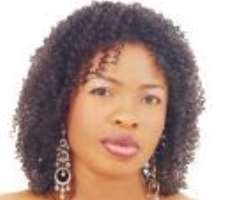 Call her the Tunde Kelani of Nigerian English movies and you may not be wrong. Unlike other producers who churn out five or six movies ... within months, Vivian has been consistent with doing one good movie a year. On meeting the lady producer, one would agree that she passes for an actress. She discloses that she has been pressured to act in her movies, yet she prefers to be known as the woman behind the scene. She speaks with HAZEEZ BALOGUN and SUNKANMI OGUNADE
How come you give so much time when you shoot one movie before another?
This particular break was deliberate. It was because the movie industry was in a big mess. I shot a movie and had the mindset of releasing it into the market but on the other side; I discovered that the industry was still suffering from a lot of problems. I shot the movie in January 2007 and it was ready before December 2007. After spending eight million naira, I would not have made my capital not to talk of my profit .I would have ended up wasting my time, money and resources. This made me relax my nerves about releasing the movie.
Has the industry fully recovered?
Yes, the industry has adjusted a bit but we are not back to where we were before. It's better now, if not, there would be nothing like this company we are running, a new Nollywood distribution and marketing firm. The two-year break gave me more time to sit down, think well and re strategise. Now, I am back and by the grace of God, no going back for me.
Is it only your movies you produce?
The fact is that, I am not a commercial producer. It would be difficult for somebody to satisfy me financially for my job. To avert issues like this, I decided to channel my energy towards my own personal production and to get a good job; it takes time and extra ordinary creativity. That's why I take my time when shooting movies because; my primary aim is to produce a quality perfect film that would be accepted by the audience wholeheartedly.
What exactly does Nollywood Distribution do?
It's a marketing and distribution company. All we do is market movies and music .We are licensed by the Federal Government and the music and video censors board under the new distribution framework. We market and distribute movies and music and make sure they get to the target audience. This new distribution idea was created to stop piracy and make sure our consumers get the best of movies and music.
Have you distributed any movie since your inception?
Yes, we have distributed movies like Reloaded and the rest of them. A lot of people have walked up to us to distribute their movies for them but I decided to start with one of our Home made movies to see how far we can go before I venture into marketing and distribution of other people's job.
How do you hope to survive with the presence of pirates?
The pirates have succeeded in destroying the quality and pricing system of our productions especially movies. We alone cannot fight the pirates; the government must join hands with us to restrain them. Recently, we had a meeting with the current Minister of Information, Prof Dora Akunyili, who has promised us that the government will support in the fight to kick out pirates. All we do now is pray and wait for the response and attempt of the government.
Lead us into the abridgment of your new movie.
Silent Scandals is a true life family story. It reveals the struggle of a single mother who encountered a lot of challenges in life. Fate played a good one with her. It's really a good one I must say, it's the first of its kind and entails a lot to learn. We encountered a lot of challenges in the making and the end of it all; my 13 years in this industry came to play. It was worthwhile in the end.
We heard that you brought in a foreign expert to direct the movie for you, How is that true?
He was not foreign at all. He was a proper Nigerian. I was supposed to shoot the movie with a foreign director but she changed her plans due to some personal problems. She decided to recommend another person for me to fill the vacuum. He was not an expert in anyway. Technically the young man was not the right person for the job because he ended up compounding problems for the production but like I said, my 13 years in the industry actually helped out. I lost a lot of weight after I saw the outcome of the movie. It was below standard. I had to start editing the movie from scratch and also revoice some of the audio parts. The softwares I acquired assisted me a lot in editing the production, but in the end, I give glory to God.
You have been producing movies and have not been featuring them in the film festivals, any reason for that?
Initially, yes. When I started making movies, most of us didn't want to get involved with the marketers. What we did was, any time we produce movies like that, we sell off the rights and collect any amount the marketers' gives us and disregard any amount they might make afterwards. Along the line, I got wiser and started marketing the movies myself.
What are the challenges you have faced in this industry?
I don't see any challenges in this industry. For me, it's fun because I enjoy what I do but for the most challenging movie I ever produced, I would say it's the just concluded Silent Scandal. The movie was excessively time consuming .We continuously shot all night for 9days. It was very stressful but I enjoyed the final upshot.
Which is your best movie so far?
(Laughs) I don't have any favourite movie because I like the entire movie I have shot. They all have this individual thing which I like about them. My best is yet to come.
What else do you do apart from movie making?
The only thing I do is movie making. Nothing else for now.
You are very beautiful and outspoken. Why don't you try Acting?
I have this funny feeling that, when they call action, I will simply take to my heels. Everybody has been saying it but I prefer writing a good story, casting and behind the scenes job. Maybe by the year 2010, I will commence acting but for now, it's not on my list.
How did you get into the film industry?
I started as a producer and produced my first film in 1996 and as at then was the youngest producer in Nigeria.
Did you learn film making?
NO, I had no business with theatre arts in school. All I can say is that, passion has been the driver. I have been arts inclined right from my roots. During my secondary school days, I was a pure science student but there was a part in me that loved the Arts. When I got into the university, I changed from a science to an art students which extremely favoured me in the finish.
Lead us into your background.
Well, I am Vivian Ejike from Anambra state. I was born in Onitsha. I went to the Federal Government College, Enugu, and later proceeded to the University of Port Harcourt. I went into banking after my service and after some years, I quit. My whole gusto was just for the arts business.
When did you develop this passion?
It all started when I was very tender. I remember then that what I always do is paint up my whole face, put on my mum's shoe and act like somebody I was not. I had the whole picture in my brain. Nobody in my family came this way.
What was your family reaction to this arts decision?
My mum was not a problem at all but my dad was like 'are you crazy'? Why would you leave a good job for movie making? I explained things to him and he decided to keep his fingers crossed and watch me as I move.
Did you make any money from your first film?
It was part of the reason why my father retreated against the idea. I did not make a dime from my first two movies. A t the end of everything, I went back to my parents to fund me and ever since then, I have been doing very fine.
Is movie making cost-effective?
Yes, if you know what you want and you go for it without hesitation. When I started this marketing and distribution, it was a different ball game entirely. There was no prove that I would make back my money. I just had the believe that if I fall, I will stand up and re strategise. You have to be financially creative. It's a big step to start marketing movies because, there is no prove that you will be making back profit. Their money in this business if you are willing to take the risk.
Any regrets so far?
None.
The problem of power tussle going on in the AGN. What's your take?
It's really not good for Nollywood. For me, I have no interest in politics because it will totally distract me. It's really not good for the movie making business. We all need each other's services in one way or the other.
If you are in the position to talk to the government about rescuing nollywood, what would point to?
There so many ways the government can help Nollywood. One bank called for a parley and we hope it comes out good. The Nigerian Exports Promotion Council is putting something beneficial together to make exports easy and to reduce the export dues and the rest of them. Exporting of films will be made easy and profitable. If the government can provide a film village, soft loans, finance group projects and the rest of them., it will indeed be worthwhile.
Can Nollywood rebrand Nigeria?
Nollywood is the right key to give this country a new image. It is close to the masses. It's is in your face every faithful day, It's the most effective way to rebrand Nigeria. If we get the right resources at the right time, the content on Nigeria's home video will change for the best.
Rate Yar'Adua's government.
Not much has affected me positively. I can't remember the last time we had light in my house. I have been surviving with generator. It's really painful I must confess. There is nothing to say.
Where do you see the future of Nollywood?
The sky is the beginning for Nollywood. I travelled a time and met this guy who was surprised at what I was holding. It was a colourful product that was made in Nigeria. He was asking me if it was really made in Nigeria. It's really funny I must confess. They don't expect anything good from Nigeria. Nollywood has changed the face of things in this country for good. It has changed the face black entertainment. Hollywood knows we are existing and that's a good one for this country.
Advice for the young ones?
It's simply focus and hard work. Believe everything is possible with God and he sky will just be the starting point.
The issue of sleeping with a director to get a role, what is your take on that?
I hear the stories around .I don't want to talk about it because I am a woman too. It's very possible. You can't come to seduce me, except if you are going nuts. I thank God for my kind of person. I don't compromise professionalism or standards. If you want to work with me, you have to go through the normal process which is getting auditioned. I do business when the time comes.
How do you balance business with family?
I thank God for the strength and grace. I try my best to leave work early enough. It's actually about time management.
When you had your first child, how did you cope with work?
I did not work at all. She was very creamy. I sat down and took care of her perfectly.