PROPOSED SEVEN-YEAR TENURE MISUNDERSTOOD -JONATHAN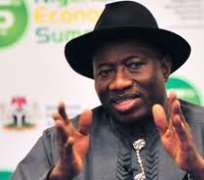 President Goodluck Jonathan said on Saturday that his proposed seven-year single tenure for the President was misunderstood by people who assumed it was a tenure elongation plan.
The president stated this while speaking with French Foreign Minister, Mr. Alain Juppe, who visited the State House as part of activities of his visit to Nigeria.
'My proposal for a single seven-year tenure is anchored on the need for an incumbent president to focus maximum attention on the execution of his development programmes, instead of expending vital energy on re-election issues.
'This has, however, been misunderstood to mean that I want additional seven years,'' he said. Jonathan noted that democratic political stability has returned to Africa.
He, however, acknowledged that in some African countries, the major challenge still remains the attempt by incumbents to stay in power beyond constitutional mandates or to insist on anointing a successor.
He said much progress had been made across the continent in the enthronement of democratic governance, saying that Africa's success story should be encouraged. The President expressed appreciation to the French President, Nicolas Sarkozy, for his consistent support and friendship with Nigeria and Africa. He said Sarkozy's support and friendship had enabled Nigeria and ECOWAS to successfully restore peace in Cote d'Ivoire.
'We could not have succeeded in restoring peace in Cote d'Ivoire without President Sarkozy's support,'' he said, adding that the intervention in Cote d'Ivoire had created an enabling enviro ment for the successful election in Liberia. President Jonathan told Juppe that the administration was working hard to check terrorism and piracy as part of efforts to provide sustainable environment for trade and investments in the country. He appealed for French support to check the menace of terrorism and piracy.
Earlier, Juppe had said he had held 'very constructive' discussions with his Nigerian counterpart in areas of agriculture, energy, aviation and mining.
He said France was committed to supporting and ensuring development in Africa, but expressed concern about political and economic stability as well as piracy and terrorist activities in some parts of the continent.