WHAT'S MR & MR UP TO?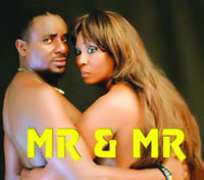 • Mr & Mt
It was a shock of sorts seeing Emeka Ike and Oby Edozieh posing half-dressed in a promotional picture for a movie, Mr. and Mr.
The movie, which sources close to Oby say would shock the industry, was shot with the intention of pushing it beyond the borders just like she did with Save Our Souls, the movie she premiered earlier in the year.
Mr and Mr would be released in December, according to sources close to Oby. The pictures have been generating lots of back-and-forth comments online with some people going for Emeka's jugular, saying a married man has no business posing in such controversial picture.
Those for Emeka say the actor is only being an actor. The argument is that art has no boundaries, so the celebrated star is only being true to his profession.
Oby is however not ready to talk about the pictures now because all her efforts are geared toward preparing for the cinema appearance of the movie.