KWAM 1: Anxiety Grips Fans; I Don't Have Cancer, He Says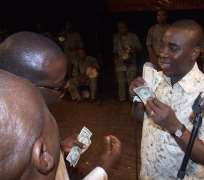 Anxiety has gripped the teeming fans of Fuji star, K1 The Ultimate, formerly known as KWAM 1 (King Wasiu Ayinde Marshal) following reports that he is plagued by cancer and has undergone surgery in Canada.
Although K1 The Ultimate has denied the rumour which has been spreading for the past couple of weeks, his fans across the world are still worried about his condition as he is yet to return to Nigeria.
The fans have been sending messages to one another on facebook, a social networking site on the internet, calling our newsroom and sending messages enquiring about the fate of their idol.
Though K 1 and his manager Percy Ibikunle Ademokun have dispelled the rumours, his fans have continued to show concern about his situation and wish him quick recovery from whatever ailment that has confined him to his home in Canada on the order of his doctors.
Investigation revealed that K 1 was operated upon for an infection of the throat at a hospital in Canada and has been confined to his home in that country on doctors' advice.
P.M.News gathered that the fuji music act was advised against travelling back to Nigeria because he had to recuperate from the surgery.
"You know, travelling for 12 hours for a person who was recently operated upon is not healthy and can be counter productive, so he has to remain in Canada for now," a source said.
Speaking with P.M.News on the issue, K 1's manager, Ademokun said "he is doing fine and responding to treatment. He had infections of the lungs and was operated upon. I swear, he is not suffering from cancer as being speculated."
The musician has reportedly called off some of his major shows in Nigeria, but may perform in Canada on 10 October.