I Will Be More Careful With Men -Lizzy Anjorin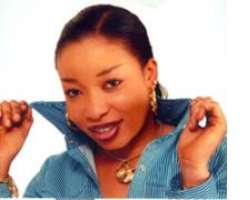 Elizabeth Ibukunoluwa Anjorin came into prominence after she starred in a Yoruba flick entitled Iyawo Ojo Kan. Before then, she had been involved in few productions and had only managed to get minor roles because she was relatively new in the industry.
However, that wasn't to last long as the fame also brought with it scandals, one of which is the car theft affair that almost marred her career.
Lizzy, as she's fondly referred to, was alleged to have stolen an expensive automobile from her erstwhile lover, Ade Dollar, and this left many wondering about her whereabouts until recently when she showed up again.
In a chat with Klieglights, Lizzy began her story reeling out how she was betrayed and framed for theft by the man she loved unconditionally.
"I have done well for myself in life and I have acquired so much to steal from anybody. In fact, he betrayed the trust I had in him. A man that I loved with the whole of my heart framed me. I was engaged in the sale of gold, jewellery, clothes, perfumes, belts and all sorts at the early part of my life and I sell these materials to police officers, students and people around me. I used to travel to French speaking countries and buy these materials for people to buy from me and I make my money through that. I still sell clothes now but it's more advanced than when I was in school because I don't have to bother myself with lectures and all that anymore," she stated.
Speaking further on the car theft scandal, she said: "You see, I've always been industrious since I was young and this is because my mother brought me up as a disciplined young lady. I started doing real business at 13 and I was already paying my school fees at that time. I am the only child of my parents and my father died early but my mother never gave me a free hand or opportunity to be spoilt. That is how I got to where I am today, so why would I want to steal anybody's car? Anyway, I can't really say much on it, but I can tell you that the man in question is currently languishing in Ikoyi prisons for character assassination and defamation. The matter is currently in court and I am not allowed to say much on it. I'm sure the law would determine who really is a thief and who really duped the other," the Olabisi Onabanjo University (OOU) graduate of transport planning and management explained.
Recently, she became the topic of discourse when she engaged in a war of words with another actress, Iyabo Ojo over her manners. The 33-year-old producer cum actress, who has three flicks to her credit had this to say about the episode: "I know my age and I can't be bothered by anyone who thinks she is so big in the industry. I was at an event and I humbly greeted Iyabo Ojo like other actors present but she ignored me and later warned me never to greet her again, saying I'm so spoilt and should respect her by calling her Aunty Iyabo."
Lizzy continued, "She just celebrated her 30th birthday and for God's sake I'm 33. But that is not the point, I can't call her Aunty Iyabo simply because she started acting before me. I don't want to join issues with her but I know I respect who respects me," Lizzy argued.
The indigene of Lagos State, who began her early education at the Joko Primary School in her hometown of Badagry and attended the Girls' High School in the same area before moving to the College of Education, Ijanikin said a friend who had found her screen-friendly and capable introduced her to acting.
"Before acting, I was a model and an activist on the campus of the Olabisi Onabanjo University but my friend introduced me to one Mr. Segun Adeniji, who is now late and the man tutored me in his acting college for four years in Abeokuta. It was there that I met the late Idowu Ogungbe and (Ahmed) Alasari, who have been there for me ever since I started. I don't know what they saw in me but they ensured that I had the best of training and helped my career grow. In fact, it was Alasari that gave me the first major role that gave me my break," the rising star said.
Lizzy's quest for knowledge took her to the Ilaro Polytechnic where she obtained a diploma in banking and finance and OOU for a Bachelor of Science degree in transport planning and management. The fair-skinned screen siren maintained that this is as a result of her promise to her mother to acquire degrees after the death of her father.
With three flicks to her credit, she said that top directors like Abbey Lanre, Antar Laniyan and Alasari have helped shaped her career.
"I've worked with several directors and producers like Abbey Lanre, Alasari and Foluke Daramola. I've also worked with Antar Laniyan once but not as the producer, rather he also starred in the flick. But, it's so good working with this set of people because they would take their time to teach and educate you on how to go about your roles and make you achieve the best in yourself," Lizzy further stated.
Like many actresses, she has also jumped on the bandwagon of producers, but how does Lizzy source for funds for her flicks?
"Well, almost everyone has a godfather or mother somewhere. I have people who support what I do and help me by financing the flicks I do. Because most of my flicks sell and make profits, I'm always able to pay back but I hardly get loans, rather I get funds from people who help me with it. Aside this, I don't squander all my funds on showbiz, I invest and keep some for the next production and God has been doing well for me," she said.
For a lady, who claims to have been betrayed and framed by a man she loved the most, it is only natural to ask if she would ever be caught in the web of cupid again.
"Of course, I would still fall in love but this time with my eyes wide open and my senses working brilliantly. All men can't be the same but I would be more careful."