BOOK REVIEW – RAPED BY THE CITY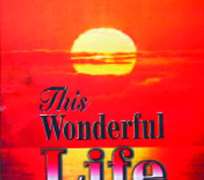 The unwary city sojourner ends up in a fool's paradise, because this mock heaven holds a dangerous attraction. This Wonderful Life, a debut collection of six short stories by Edozie Udeze, echoes the obvious.
One charm of fiction is that, though characters and the environment can be masked, we can see through the veil to see the reality in us. In these witty stories, the author makes an evocation of urban life especially, creating characters levitating in the pulse of cosmopolitan oddities and using their trajectory of fortunes as a lesson in morality.
In Nigerian literature, the suburb of Ajegunle in Lagos evokes a metaphor of squalour and crime. This finds expression in Udeze's first story, 'Harry in the Jungle'. A depiction of this setting can make a stranger flinch: 'The Clusters of ghettos and swamps and streambeds stretched hundreds of miles in every direction' (p. 3).
But this isn't another Golgotha you may think of. Ajegunle is home to the protagonist of the first story, Asota, who, though penury has become emblematic of his existence, rejects the lure of joining advance fee fraud, 419, men offered by Harry, an old friend he has done a favour in the past. The gloom, however, didn't lead to his doom. Harry smiled at last. He chooses to work with the anti-drugs agency.
The author utilizes the technique of flashback in this story, as he takes us nineteen years back to the transformation of Harry from a schoolboy to an adult. His father, Udene Ede 1 of Ihuda, was an itinerant medicine man noted for his voodoo powers. Harry was a brilliant student, and won a scholarship to further his education. But, due to greed, he elected to be a 419ner.
Back to the present, his father, Udene, has become an accomplice to the coterie of fraudsters, preparing medicine that makes it easier for them to defraud their victims. Another strand to the story is Harry's troubled love life, which Udeze uses to illustrate that you can't have it all. Harry's preference for moneymaking makes his love relationship suffer. Ellen Etim, a model, attracted to Harry because of his wealth, soon discovers that he doesn't have a commensurate love for her. 'As long as I live, money comes first,' he makes it loud and clear (p. 36).
The didacticism in the story manifests when Harry comes to a bad end with the turn of events. A clampdown by the Drug Agency on fraudsters by the military government sees him apprehended. Not even the voodoo of his father can save him from the law. His erstwhile poor friend, Asota, happens to be among those arresting him. Sadly, he is given away by his girlfriend, Ellen Etim, who dies on the eve of his being sentenced to prison.
The second story in the collection is on Michael, the abandoned child. Also set in Lagos, the author depicts a city whore, Amaka Udoma, dumping a misbegotten baby from her coquettish trade. The author builds up the story with suspense. Though she succeeds in carrying out the act, it is one evil too many that haunts her till the end. Amaka thinks it is as easy as it sounds -'Let me dump the little baby here jo!' (p. 60) -but little Michael is rather lucky and rescued by a Catholic nun, Sister Roseline, who takes him to an orphanage, where he is adopted by the Adeyemis and raised up to be a vibrant and comfortable university lecturer.
Disaster looms, however, when Michael falls in love with a student of his, Ednah, marrying her later, without knowing she is her blood sister born by Amaka, his elusive mother. Little wonder, Ednah fails to bear a child for him and Amaka fails to bear a male child to her husband either. When the truth unfurls, it leads to tragedies: Amaka dies of heartbreak and Ednah dies of stroke arising from high blood pressure.
This story aims at drawing opprobrium at the wayward lifestyles of city sluts, who, swayed by the allure of quick money, hardly contemplate of the repercussions.
Another exciting story is 'An Encounter with a Harlot'. Here, a journalist runs into a harlot on a visit to Ile-Ife, Osun State. The hankering whore employs all tricks at her disposal to win the heart of the pressman, who deliberately, plays the eunuch, to the disbelief of the young lady. 'I am not in the mood for it now,' he shrugs her off. Not every Adam is in love with the apple, you see!
In recreating the seamy side of life, This Wonderful Life is guilty of sermonizing and hackneyed journalese. One of the rules of fiction is: show and not tell, which is to allow the reader draw lessons from the characters' experiences, unlike what the author often does, telling us, in copious instances, the effects of 419, prostitutions, privations in Ajegunle, among others.
But we cannot begrudge Udeze of his robust imagination, as well as his prodigious narrative techniques. The poet in him bears in the stories, with each tale beginning with a poem, which foreshadows the kernel of the narrative. The admixture of local idioms also enriches his diction. A culture journalist with The Nation newspaper, Udeze's debut offering deserves applause.