Obesere to release hip hop album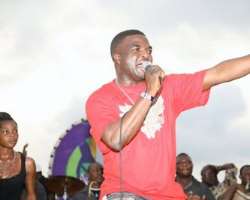 Paramount King of Fuji, Abass Akande Obesere last weekend made a dramatic sign up for a relatively new record label, Stingomania Records.
Obesere, until last week, was to sign for another record label and both parties confirmed weeks back that agreement had been reached except for some few areas that needed to be sorted out before they both put pen to paper. But with what happened last week, 'few areas' were not sorted out and neither of the parties was able to put pen to paper.
Obesere, who was one of the two highest selling artistes during the glorious days of Sony Music, has finished work on his first hip-hop album and industry watchers have said that his latest effort will redefine him and stamp his authority on the hip-hop market.
The album, which has been aptly titled Revolution, has 12 tracks and features heavyweights of music industry such as 9ice, Lord of Ajasa, Timaya, Uncle Promise, Eazy Lizy and young Trybson.. With the Revolution album, Obesere has pioneered a new genre of music for himself which he calls 'Fuji-hop', a fusion of Fuji element with heavy infusion of hip-hop.
That was clearly evident in the track with 9ice, Kin Noso, and in Gbose yewo. He was even audacious with his track, Ka anyi Gbe Egwu' an Igbo song he did with Timaya.
The incursion is to help him ease the Igbo market, where he believes he has wide followership as well. Chairman of Stingomania Records, Ope Banwo said, "We are ecstatic
to sign and manage a megastar with a cross-over appeal like Obesere.
We are also doubly excited to partner with him in leading the Fuji-Hop revolution that will finally merge the fans of Fuji and Hip-Hop under one music umbrella with Obesere as the paramount king of music as the leading force. We can't wait for the Revolution album to hit the airwaves! A nation-wide tour with top hip-hop act has been planned for the album, which is due for release in October.