I can do anything to act -Uche Obodo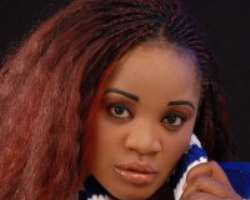 Fleshy but beautiful actress, Uche Obodo, who has been in the news for several things sure enjoys the buzz that comes along with being a screen siren.
Though her name might not instantly ring a bell, Uche comes across as a personality that is ready to go places with no inhibitions.
In a recent chat with Klieglights, she said: "It hasn't been an easy journey all along being in the spotlight but I must confess that I do enjoy the attention that it brings me. It is funny that the job entails being in so many places almost at the same time, travelling around, going to places, meeting people even at times you might not really want to but the attention which it brings is one thing that I must confess I enjoy."
To the light skinned actress, consistency, hard work, ability to learn and improve on her trade are some of the traits, which she possesses and which have worked to her advantage.
"Sincerely, I would tell you that consistency, hard work, ability to learn and lastly, improving on my acts because I learn on every set, and every set on it's own is a challenge, are some of the things that has kept me going and consistently worked for me in the industry.
For a lady, who had once been quoted to have said her boobs were her most treasured part of the body, it was surprising to hear her say her voice was the most cherished part of her body.
"I didn't say that like it has been said. My boobs are part of my body but the most cherished part of my body remains my voice and this is because this has helped my career.
"I am able to change character with my voice and this is one of the reasons I am paid or noticed as an actress in the country. I would say my voice because I know it is something that helps me go a long way all the time," she corrected.
What about her reported outburst to act nude for $1 million?
"Again, I was misquoted. I didn't say I was going to act nude, all I said was that I can do anything that it takes to act as a professional in and outside the country. I love what I do and I have an unbiased passion for it. I am a professional, I am trained to do what I do and I would do it to the best of my knowledge," she reiterated.
For a lady, who strongly believes her highest point in her career is yet to be witnessed, it wasn't a surprise to hear her say she's currently on talking terms with some foreign production outfits, towards appearing in a world-class movie.
"The highest point of my career is coming soon. That would definitely be when I start (appearing in) international flicks. Already, there are cards on my table and I am weighing my options. In fact, I haven't gotten to the highest point because I strongly believe that is still in front of me but I am close to it," was her response.
The movie, Another Bondage, brought her into limelight. With several other flicks in her kitty, Uche seems determined to make it big in the industry that is riddled with controversy.
Seemingly ready to air her opinion on the current brouhaha in the Actors Guild of Nigeria (AGN), Uche said: "I believe the AGN leadership shouldn't be about the power, the current problem is as a result of power tussle. The people that are supposed to be representing our interest want to be there because of the power they stand to get. We need someone, who has our interest at heart, who would provide new ideas that would cater for us all as practitioners and create new and enabling environment but where do we find that in the current situation? I sincerely feel as the industry is growing, the practitioners should also aid the growth."
On coping with male admirers and obsessed male fans Uche simply said she avoids the situation.
"Yeah, they come but I usually avoid them or the situation and I don't give room for such situations. I have not encountered any obsessed fan and there has not been any nasty or uncomplimentary situation with any man because I don't even give room for it," she said firmly.
Thus, can she be viewed as being strict?
"I am not strict but I know what comes with the job and to avoid what might be constant embarrassment or uncomplimentary situations like you just mentioned," she said.
How soon would she tie the nuptial knot and who is the man lurking around her heart?
"Very soon and if there's any man, I would let you know when the time is just right," she said, signalling the end of the session.