ex mbgn ADAEZE IGWE set to wed footballer JOSEPH YOBO.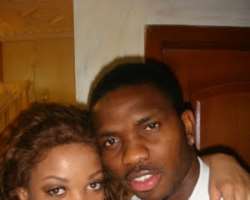 ADAEZE IGWE and JOSEPH YOBO
this pair had been secretly seeing each other but made their relationship public recently at actress rita dominics birthday bash at lacapane tropicana in april 2009!
the two lovebirds who recently confirmed their romance to encomium magazine in an interview secretly got engaged before adaeze boarded her flight to begin school at UCLA.
sources inform that the excited lovebirds have the approval of adas lawyer mum and excited talks are already on for the wedding plans which might be sooner than expected.
sources also inform that adaezes ex lover kevin has gotten wind of this new plans and is very upset about it as he had invested a lot of money on the ex-queen.
hear the sources''it was a dramatic proposal at heathrow airport on wednesday september 2,2009 as the deputy captain of Nigeria's Super Eagles and top defender of Everton went down on his knees at the airport and asked adaeze to marry him. the excited but shocked ex- queen allowed him slip the ring on her finger and agreed to marry him with tears running down her cheeks.
adaeze has been telling all her friends about the good news and her mum is so excited''.
The lovebirds had been together in yobos liverpool house for three weeks before ada left for school.
long before their romance hit the newstand,''ada had confirmed to close sources that yobo was her dream man and that her love had tamed his roving eyes''.
the ex beauty queen is spotting a diamond engagmeent ring rumoured to be worth a lot of pound sterlings.
congrats to both,heres hoping their union fulfils them!