My connection with MONALISA CHINDA'S marriage- by Mr Kool.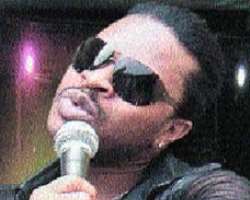 The Many Sins and Lies of MR SEGUN DEJO-RICHARDS – Pls verify.
I am in possession of sms and media publications with false and malicious allegations made by Mr Segun Dejo-Richards against me to the media; accusing me of master-minding his marriage break down. All intended to drag my name (Mr Kool) into his crisis with my niece (Monalisa Chinda).
What I will say in this statement, will be read by my Family, friends, Fans, Colleagues, Monalisa's mother, Monalisa herself, and even Segun Dejo-Richards; so it will be the Truth and it will be consistent.
First, please let me state clearly that – I AM NOT SPEAKING FOR MONALISA CHINDA, but to clear my name (MR KOOL) of all the blatant LIES Mr Dejo-Richards has told the media and the world. When and if Monalisa decides to speak, she will tell her inside story. I urge the media to verify my every statement.
This would be the first time in my career that I am forced to exchange words with anyone through the media, (whether artiste, marketer, management, promoter or anyone else). Also, on saturday, 5th Sept 2009, I sent an sms to Mr Dejo Richards advising him to stop lying to the Press. I also forwarded it to his Lawyer. (Ask him).
Before I go on, let me thank Mr Segun Dejo-Richards for NOT accusing my niece (Monalisa) of infidelity; so there is nothing for her to be ashamed of. Am also glad that in all his interviews he described her as a - "a faithful, loyal and loving wife", he also stated that he has been a "a caring and loving husband". The big question now is 'Why would a 'faithful, loyal and loving wife' run away from a 'sweet and loving husband'?
His many Lies
1. Mr Dejo-Richards alleged that I arrested, assaulted and detained him – On what day? At what police station? - No such incident ever took place. Pls verify.
2. He claimed I came with policemen to take his property – on what date? What property did we take? And if we didn't take anything…what stopped us? I am not illiterate, Festus Keyamo chambers is competent, and already on top of the matter, why would I throw myself in. I have not been to Segun's house in over a year (since May, 2008) during one of his violence emergencies. Pls verify.
3. He alleged Monalisa has been in my house after leaving their home. While he knew she was staying with a friend on the Island; Segun also knew I had not seen or spoken to Monalisa in 5months (since Easter Sunday -until last Saturday, 29th August 2009). Pls verify.
4. He alleged that I introduced Monalisa to Festus Keyamo? Never. Festus Keyamo had already issued a press release before Monalisa visited to my house on the last Saturday of august (after environmental sanitation), she stayed just 45mins.I knew nothing about her divorce process. Pls verify.
5. He claims that his 'beloved wife' was being ill-advised by her family and other Nollywood ladies. When he knows she ran from 5yrs of manipulation, ceaseless battery and physical abuse. Pls verify.
6. Mr Dejo-Richards made sure that, Monalisa ex-communicated her mother, siblings, family, colleagues and friends, so as to achieve his evil manipulation and WIFE BEATING without detection. She was loyal and submissive (or should I say colonized and subdued). So, if anyone ever had the chance to advise her, it will be at those times she helplessly cried out for help, when the Beating was unbearable.
6. He says I didnt approve of his marriage to my niece – Not true, in 2005 he brought 2 bottles of Remy Martin cognac to my house, requesting my approval, I accepted the drinks and then encouraged our family to go on with the marriage process. But I just didnt approve of his evil ways and I told him point blank. Ask him.
7. Segun called me an adviser/instigator- Bloody ingrate, even his own friends will bear me witness, that contrary to his lies, I had on many occasions last year, sought for peace and reconciliation between him an his wife, I went to his house on 3 occasions to dialogue, talked from 8pm-1am but Segun would not listen. . I later invited Segun to my house for peace talk, his friends came, but Segun never showed up for one day. His wife and 3-month-old daughter were in my house for 5 weeks (May -July 2008.) Monalisa was using my car to take her baby to the hospital for inoculations, because at that time also, Segun seized her car. I even spoke to his pastor, to no avail. His friends and pastor may be reading this now and they know the truth. Even though, as a loyal wife Monalisa covered up for her husband when the media started buzzing and went back to him.
8. His only TRUTH: Yes, I've called him names like - Manipulator, Schemer , User, Wife beater and now an incurable Liar; ( but I never did it in public or in front of his wife, I always asked Monalisa to leave us when am talking with Segun man to man, I never tried to bring him disrespect).
I knew his game from the first time we met in London. He made Monalisa read funny manipulative books, like 'Total Submission' 'How to be a perfect wife, 'Obeying the Master etc. And when I asked her she told me Segun was a born again christian and was helping her grow spiritually. (Like Segun confirmed in his interview with City People, 14 Sept 2009) Monalisa had to kneel down to give him drinking water- ( a civilized man in London in 2005, haba!!) I saw it happen, I knew something was wrong, she had become robotic. I told him straight up that I didn't trust him, and we will never be friends if he continued with this evil plan. Yes, London can be lonely, Segun found a perfect victim - Monalisa (the tender-hearted young woman). Yes, I called him names, but the truth today is that, Segun has not fallen short of these names I called him.
My grouse with Segun Dejo Richards are just 2 things – 1.) Stop being rude to my elder sister (Monalisa's mum). 2.) Monalisa is your wife, you can manipulate her all you want, but STOP BEATING her.
But before I go on to further tell my side of the story. Please can Mr Segun Dejo-Richards (Monalisa's husband) tell the media and the world the following?
1. Why would Monalisa Chinda, whom he refered to as a 'faithful, loyal and loving wife' run away from a 'sweet and loving husband'?
2. Why would Monalisa leave her home for over a month without taking any personal item as a woman?….maybe she ran for safety and her clothes didn't matter then?
3. Why would Monalisa even need police to go to her matrimonial home to pick up her personal stuff as a lady? …could it be she's afraid of more violence from Segun?
4. Mr Segun claimed Monalisa came with her uncle and policemen to take her car (after 5 weeks), why did she not take her car when she was leaving? Why would she deliberately trek or hitch a ride when there are 2 posh cars at home?
5. Why would Mr Dejo-Richards who loved his wife, quickly go on to change the papers (ownership) of her said car to himself?….maybe his agenda was driving him reckless. Pls verify.
6. If Monalisa is acting on bad advice, Why didn't she discreetly plan and wait till her husband goes out and she takes all her things and leave?……Again, maybe it all happened too quickly and all she could take was her life?
7. As a 'loving husband' whose 'loving wife' ran away for 7weeks without reason, who did Mr Dejo- Richards alert? The police, his mother in-law or me- her usual refuge? Nobody…because Segun knew his cup was full. All this media hoopla is just blackmail and cover up.
8. How come after 6weeks, none of Segun's family members has asked about their dear wife- Lisa? The crisis making headlines… Have they not heard?….But they are not to blame, maybe, as a Renegade, Segun is not answerable to anyone, and would not heed any advice.
9. Why is it that, at the tick of a second, Segun will not fail to tell the press or anyone else how he 'created the Monalisa brand and nollywood career?…. Could it be he ensured that Monalisa stopped being her own person, the theatre Arts graduate, a beautiful well brought up young woman; the first daughter of a highly civilized royal family, to become a craftily designed money making venture owned by Segun Dejo-Richards.
10. If Mr Kool was the adviser/instigator, why would my darling niece who always ran to me for refuge, ex-communicate me for 5 months, and didn't even tell anyone in the family (not even her mother),that she had left her marriage for over a month?
11. Why would Monalisa travel to PH, after one month and have her mum call me just last week to tell me what was going on, while we both live here in Lagos?...Maybe because she felt embarrassed to face me, cos I have tried my best and tired of Segun's arrogance. But in her own words "I didnt tell anyone because I did not want any pity or advice, its my personal decision"
13. Why does Segun refer to Monalisa Chinda as his 'beloved wife' yet he constantly
feeds the media with LIES about her?….My answer to this one is simple– Mr Segun Dejo Richards is like 'An evil rat, wey go dey bite you, dey blow you breeze'
Just For the records: Monalisa Chinda is my niece, her mother is my eldest sister (also the first born). Since I was a child, we've been a close family. With all humility, I'd say that we come from a decent civilised background; and we imbibed love, patience, tolerance, respect and value for integrity. We do not interfere in each other's relationships, but can be protective if need be. And when I settled in Lagos, Monalisa lived with me in the same Festac home from day one of her acting career in Nollywood; and later went to England to do a course in Cosmetology. She had the best childhood you can imagine, love, care and good upbringing, She has never been a money-hungry person. If money was on her mind, Segun will not be an option for marriage. And if money was the disagreement, she will give it all to Segun (maybe she did). Therefore, I will humbly appeal to the media to discard any rumours that the GLO endorsement (Glo money) has affected her negatively. I am sure she will remain a responsible Glo Ambassador, lets not forget that before the endorsement she has also been a successful nollywood actress and gets paid like others. Lisa will give anything for love, and will never leave her marriage for money, even Segun knows this, but I guess Mr Dejo-Richards has beaten out the last drop of love.
Lets not forget, that a woman deeply in love is like mutter and can be moulded into anything; but also like the saying goes "Hell knows no fury like a woman scorned". And like the lyrics of my song titled (Good Woman), Monalisa Chinda is like "a beautiful picture, trapped in a broken frame"
This matter is not a Mr Kool/Segun/Monalisa issue, the Chinda and Ibeh families are well informed, I am the youngest guy there, am just representing cos I live in Lagos. For now, I will refrain from bringing impeccable material evidence to refresh Segun's memory, or call names of witnesses ( including his own friends), but I will if Segun makes it necessary, I hope he does not.
To my niece, Lisa, am really sorry, I had to speak to clear my name, You know I didn't want to get involved in the media mudslinging , but Segun left me no choice.
I rest my case, please be the Judge.
-Stella DK