Actor SEGUN ARINZE meanders into AGN politics''why i want to be president''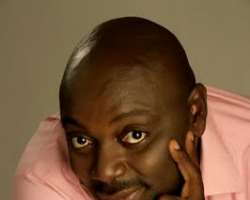 I just want to clarify issues as regards my intention to run for AGN presidency.
I read with great amusement in the recent edition of Encomium magazine(in STELLA DIMOKO-KORKUS' column) varying opinions as to the kind of president i'll make when i do become president of the guild.
i do sincerly appreciate opinions and also criticism both constructive and negative because they are the ingredients that help shape you in life. what i don't enjoy is casting aspersions and judging me without knowing me.
I decided out of my own volition to run for office without coersion from anyone whatsoever and out of a strong desire to lead the guild to the next level.
I do have my game plan and i intend to pursue it to the letter and am not about to give out details of my manifesto here because in the final analysis its the conference of state chairmen who make up the delegates that will vote so its them that need my manifesto, besides there will be a debate.
ever heard of a leader without an agenda? I know i possess the strength of character to lead the guild. Leadership is about listening not the sound of your voice only, leadership is about diplomacy and tact,leadership is about carrying people along as you make and take decisions that affects them, leadership is humility not over bloated ego, leadership is about strong will, will power and firmness.
I do not have the time to be anybody's foot soldier or be influenced. I AM MY OWN MAN! Two years is a short time and i want to make the best of it rather than allow myself to be distracted. i got a job to do. this is time for serious work. there are so many challenges ahead before the guild. Bridges i'll build, peace i'll want because we need to thrive as a guild in harmony not in acrimony Failing to plan is planning to fail. don't think self? think others! lets think AGN first.one guild, one voice! lets turn a NEW LEAF! Thank you.
THIS IS THE WRITEUP WHICH MIFFED THE ACTOR TO RESPONDING.
see below.
LATEST NEWS FROM ACTORS GUILD OF NIGERIA(AGN)POLITRICKS.
-ex president Ejike played a fast one on the board of trustees and interim president kanayo.o.kanayo when he quickly announced his own election time table with September15,2009 as election date.
actor Sam Loco is the chairman of the committee.
- KOK went into an emergency meeting early last week and quickly inaugurated his ownelectoral committee headed by actor Pete Edochie.
The die is cast and Both camps are selling nomination forms.RESULT(?): Leadership Factions in AGN. CONTESTANTS.
-Remy Ohajianya:Former chairman Lagos state.earlier Accused of gross abuse of office and embezzlement during his term as chairman.tagged Academically unsound, timid and naive.
-Emeka Rollas:Good but never to be trusted.He was also accused of illegally selling AGN form in Benin and Warri in 2005.A stooge of Paul Obazele who is believed to be funding his campaign.His hitherto strong political machinery is in disarray.Poses as a pastor.
-Bob Manuel Udokwu:Highly qualified educationally but lacks the support of his colleagues.Seen as very cunning and untrustworthy. He is also referred to as the worst hit with the 'aka-gum'syndrome in Nollywood.
-Segun Arinze:Qualified to head AGN as a bridge builder but seen as a weak leader.The fear is that Segun will be controlled by external forces.He does not have the dedication of Ejike Asiegbu and does not seem to have any manifesto of his own.
-Kanayo.O.Kanayo: Although he is the interim President and has vowed not contest,his body language suggests the contrary.He is believed to be busy making contact with the high and mighty soliciting for support to run. Accused of having a meeting with members of his town's union on ways to perpetuate him.
-Emeka Ike:He is the least qualified. Seen to be agressive.Best as a kingmaker than a king himself. Also a very shrewd business man and is believed to be seeking power in order to enhance his business.
-Charles Okafor: Showed interest initially but later chickened out when he realized he could not garner enough support even from his colleagues.
-Ejike Asiegbu-:But for the recent opposition mounted against him, the former president would have recontested and probably would have 'won' as a result of his grip of the guild and the power of incumbency.
nollywood Breaking news: Latest report has it that Ejike Asiegbu who disappeared the AGN branded bus for close to a month now has repainted it and changed the plate number from AGN 1 to normal conventional number plate.