Go Make Peace With AGN, Akpoyibo Tells Ejike Asiegbu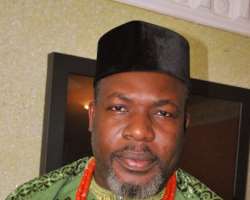 The Lagos State Commissioner of Police, Marvel Akpoyibo, has told the former National President of the Actor Guild of Nigeria (AGN), Ejike Asiegbu, to make peace with his constituency.
The commissioner made this statement, when the warring parties in AGN, visited him in his office.
nollywoodgists.com gathered that after listening to the grievances of the AGN members and Ejike Asiegbu, Akpoyibo advised the embattled Ejike to go and make peace with the actors and the guild's registered Board Of Trustees (BOT.)
But sources close to Ejike squealed that he has vowed not to sheathe his sword, even as other stakeholders and friends have advised him to do so.
nollywoodgists.com further gathered that even through a Federal High Court in Lagos ruled that Ejike should hand over the guild's properties in his possession, he is still adamant.
He was alleged to have changed the guild's official vehicle registration number from AGN1 to an unknown number and this has prompted AGN's Board Of Trustees to declare the vehicle missing.
They argued that the vehicle was donated to AGN, and see no reason why Ejike should hold on to it or decide to change its plate number without approval from the board.
When nollywoodgists.com called him on phone to confirm the allegations made against him, he said: "I don't discuss such issue with people on phone. Thank you."