Polygamy is fun, says Henrietta, Jide Kosoko's wife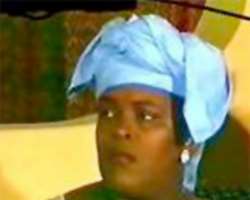 She is a fantastic Yoruba and English actress of many years. But Henrietta Kosoko, a very robust actress, married to a popular actor and president of the Association of Nigeria Theatre-Arts Practitioners (ANTP), an umbrella body of all Yoruba thespians in the country, Prince Jide Kosoko, cut her niche immediately after featuring in that popular Yoruba movie, "Omolade", and "Onome".
Today, a discourse on Yoruba movies cannot be said to be complete without references being made to her. Henrietta, in this encounter, unveils the kernel of her love-life with the prince of the Yoruba sector of the movie industry. This is Henrietta in her elements.
Acting seems to run in the blood of Jide Kosoko's family. How do you cope with marriage to a man that shares the same passion with you?
It's our job and we are coping with it. Like you do rightly know, I'm not his only wife. His other wife is into business. It's not as if she's always at home but she's engaged in something else. So, most often, our children stay with her in her shop.
They see her more often than they do see me. I trained my children in a way that they can take care of themselves even when I'm not there. My last child is about 10 years old. So, it's not as if I have a little baby I'm breast-feeding. Besides that we are all one family.
How is it living in a polygamous setting?
You heard my husband say I had twins before I married him. Where I come from, I happened to be the only wife of my former man. I had no rival. But right now, I'm in a polygamous setting and I can tell you that I'm certainly not complaining.
Am very much at peace with my husband. Here, nobody gives you peace except you give your self a peace of mind. I'm somebody that can adapt to any situation I find myself. Polygamy is fine! I'm enjoying it.
At times, you go on set with your husband, what's the feeling like when you appear on the same set with your husband?
There is no feeling whatsoever. It's the same thing. Yes, several times I have been on the same set with my husband. But it's all about doing our jobs. Whatever the directors of the film that we feature in ask us to do, that we would do.
There is a great difference between my husband at home, and my husband on set. When we are on set, we know that we got to be very serious with our job. But at home, what we take seriously while on set, is something that amaze us.
Would you say, your husband influenced your acting career, or you influenced his?
He influenced me into acting. Though, I was acting before I met my husband, acting as a profession has different levels.
At that time, I did not take acting as a full time profession, because I trained as a caterer. But I must tell you that, I achieved fame when I married my husband. My husband is from Somolu Local Government Area of Lagos State, while I'm from Mushin Local Government Area. I started acting from there. Nothing has changed since then.
Then, how did you got into acting?
I acted in a play in our church. The play is titled, "Anuwa". There was this guy, who was a member of the audience, and who happened to be a member of the Association of Nigerian Theatre Arts practitioners(ANTP). After watching me on stage, he insisted that I must join the movie industry. He was the one that dragged me into acting. But when I married my husband, I took acting as both my profession and my hobby. My husband was the one that brought me to limelight.
How many Yoruba or English movies would say, you have featured in recent times?
So many of them. I can't count them off hand now. But I know that 'Omolade" brought me to limelight. Also, I remember that I featured in the English movie called, "Onome". I have come of age in the film industry. I wouldn't be able to remember all of them now.
Now, how did the big fish(Jide Kosoko) got hooked with you?
Actually, my husband and his group came to show a film around my area in Mushin. So, when he saw me during that event, he fell in love with me, and we started off from there.
At that point, were you not aware that he was married?
I knew he was married. But I was not discouraged. I was with him, till a certain period, when I had to leave him to have my twins. I returned to him in 1993, and since then, we have been together. Then, we were dating each other. But I have so much respect for his women at home. Then, nobody knew I was in the picture because I was playing my card neatly.
But it was when I finally returned to him, in 1993 that people got to know about our relationship. Till when I hit fame in 1995, through the movie, "Omolade", I was his mistress. That's how I came into Jide's life.
Having been living with him for years now, what would you say of your husband?
He's very focused, loving and supportive. I don't see my husband engaging himself in odd things. I believe so much in him, and my husband equally believes in me. I'm happy to be living the rest of my life with Jide.
For me, I have no regret whatsoever. I 'm happy to be married to Jide, and at the same time, I believe in myself. I so much believe in myself, to the point that nothing moves me, when it comes to my husband.
At what point in your career did you hit the limelight?
It was in 1995, when I played the role of Omolade in a film titled, "Omolade." That was how I was brought to the limelight.
Managing stardom and motherhood are two difficult things to handle, coupled with being married to a popular actor like, Jide Kosoko, how do you rise to the occasion?
Like every other woman, I have been coping with the situation. I'm not complaining. I'm not a millionaire neither am a poor woman. I'm contented with what God has done in my life. As a wife of Jide Kosoko, I have no regret whatsoever.
We know that acting has taken a strong root in Kosoko's family, if I may ask you, is there any way the family is planning to put up a production that will be entirely Kosokos?
Very soon, "Akoni and Family', a televison series will be on air. It's a series that will star the entire members of Jide Kosoko's family; myself, my husband and our children. Acting lies in our family . Just watch out for the series hitting the air soonest.