I love it when men make pass at me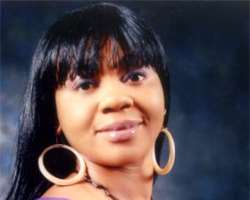 Mary Uranta has certainly seen it all when it comes to matters concerning the Nigerian movie industry. With more than six years experience and an uncountable number of movie roles in the kitty, Mary can hold her own against any female in Nollywood. In this chat with Bridget Amaraegbu she lets us into her world of make believe and more.
Enjoy.
Some of your colleagues haven't been working recently. But you've always been on location. How do you do it?
(Laughter) It's the grace of God that's taking me through one location to another. I must confess that I'm surprised too.
When the job wasn't coming, how did you take it?
I took it in good faith because I can't kill myself over that when I knew that even the marketers themselves weren't working as well. You and I know that the market for our movies went down at a point. And this is not peculiar to Nollywood alone. Even people in Hollywood at one point or the other have experienced it.
But Nollywood is bouncing back in full force and it's been very tedious for me. And I'm enjoying it. I'm very happy that I'm working.
Coming from the Niger Delta, you've been able to distinguish yourself as an actress. Why didn't you try out militancy like some ladies from the region have done?
I think it's an individual thing because if you choose to work for the devil, he'll use you to achieve his mission on earth. Though I've heard that girls are also involved in all the kidnaps, killings and so on, I thank God that I'm not one of them. It's my prayer that God will give them a change of heart because I know they're toeing a very dangerous path.
Have you done any movies in the Niger Delta recently?
Yes, I just finished one in Warri recently.
And they didn't kidnap you?
They'll not do that because if they do, they won't get the money they are looking for. Most times, they only go for the big fishes.
Your movies, which of them brought you to limelight?
I'll always give it to Secret Mission. This movie was my breakthrough which came in 2006. But before and after then, I had done some other movies. I'll not also forget my very first movie titled Girls Hostel. I keep talking about Secret
Mission because it was my first lead and a very challenging one too.
What were your challenges as a beginner?
It wasn't easy for me as a beginner coming to play a lead role with most of the stars I've longed to be with. In Secret Mission, I had to play a lead alongside Chioma Chukwuka, Ngozi Ezeonu, Desmond Elliot, Livinus Nnochiri and others.
But I thank God it came out well and people appreciated my efforts.
When acting, do you inject your real self into roles?
No way! I've never acted the real Mary. I only display what I have on the script. I've never been given a script that depicts the real me and that's one of my biggest wishes.
I want to be able to give my fans a feel of me.
In movies, have you played romantic roles?
Yes, even the last one I just did is a romantic movie. The thing with playing such roles is that the people involved already have it in their mind as strictly business. Once the director says action, every part of your body gets the signal for work, and no play. So, your natural emotions do not come into it at all.
Even if you were kissing on set and the same director says cut, you just cut and clean up. I can't speak for other actors and actresses but that's the way it works for me.
Can you play the role of a lesbian or prostitute?
I've not been given the role of a lesbian to know how well I can do it. But I've done that of a prostitute in Divine Grace and it was awesome. You see, some of the things that make you a good actress include your ability to diversify. When you're stereotyped to a particular role, you don't really get to know your potentials in other roles.
Playing the role of a prostitute really exposed my potentials because I never knew I could do it that well. And I like it when I play bad girl roles. It should not always be the good girl or one school girl role. Sometimes, you really need to play other challenging roles to get there.
Before you joined Nollywood, what were you doing?
I used to do stage plays like drama and dancing. I was also involved in buying and selling of clothes, electronics, curtains. I was more into interior decorations until I got hooked seriously with acting. So, I no longer have much time to travel abroad and buy these things. But I still do them as part time, especially when the jobs are not forthcoming.
How were you able to move into acting after graduation from the Rivers State University of Technology (RSUST)?
Even before I graduated, I had gone into acting which made me have a lot of problems with my HOD. She saw me as an unserious person because I was doing movies. She called me names. And to worsen my case, I started going for various contests.
She forgot that people must not always practice what they studied in school. Personally, I never wanted to be a secretary. I applied for English Language and Mass Communication which I didn't get.
Have you had time to see her since your graduation?
No, but we made up before I graduated. In fact, at the tail end of my graduation, she got to know my kind of person. She got to understand that I was one of the best students she had. She apologised to me and promised her support if I had to come back to study again. I know that one day, I'll go visit her again.
Is there a difference between stage and movies?
Yes, and the difference is being able to face the crowd. While in movies you are only paying attention to your director, you have your viewers at home. But on stage, you have to satisfy your audience immediately or they throw stones at you.
I got used to crowd early in life while I was in secondary school. I became a school prefect right from SSI. So I was addressing crowd from time to time.
Back in my secondary school days, I used to act drama dance. And since I did a lot of choreography and Atilogwu dance in my school then, it wasn't difficult for me to face any crowd. But whenever the camera is in front of me, I get nervous. Now, I've also gotten used to it.
How are you coping with stardom?
I don't really know how popular I am because I'm not an extrovert. I like keeping to myself but each time I get out, people always walk up to me and say different things they saw me do in movies. As I talk to you, I can no longer go to the market because some of these people don't understand those things are mere acting.
Your childhood, what was growing up like?
My childhood is one thing I don't like talking about because my dad is a pastor and we lived in the church premises. So, we were always in the church and I didn't have the opportunity of mixing with friends as a child, unless I was in school.
I was moving from one school to another as a child because each time my father was transferred to another parish, I had to change school, until I entered Holy Rosary Secondary School Port Harcourt and later Rivers State University of Science and Technology.
Were the transfers around Port Harcourt?
Yes, my growing up was all in Port Harcourt.
Coming from a religious background, how did your parents take your acting career?
When my parents saw that this was what I love to do, they gave me their blessing. My father was only particular about his reputation as a pastor. He advised me to be careful in all I do, especially as it concerns my dressing, places I visit and so on.
He understood that everybody came into this world with a different mission. Even his own brothers and sisters are not all pastors. They're seven of them and he's the only pastor amongst them.
So how do you handle the men folk?
I don't really see the passes from men as a big deal because if they don't, I would wonder why. I'm excited at their passes and I enjoy it. It reminds me that I'm still very hot.
But one thing is certain, I can't follow every man that comes around. Sometimes, you don't even get to see them, they only call you on phone.
If you know how to politely ward off men, you'll end up being their best friend. Sometimes too, you fall for some because you can't say no to all of them.
I mean, there are some charming princes you can't say no to (laughter).
Right now, I have a wonderful relationship which I don't like talking about. So, when these men come around, I handle them nicely and they end up being my fans.