Nollywood mourns Gani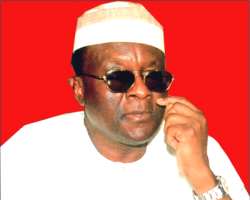 Since his sad and painful death was made public penultimate Saturday, several leading Nollywood stars and practitioners have been mourning and weeping over the irreparable loss of Chief Abdul-Ganiyu Oyesola Fawehinmi.
The thespians also unanimously concurred that Fawehinmi was and still remains a legal icon and the last hope of the oppressed masses, who will forever miss him.
According to top actress, Oby Gold Edozieh, as a lawyer, the late legal luminary was very vocal and fearless, while as an activist, he was consistent and always on the side of the masses.
"In fact, Gani was irreplaceable and unrivalled. I don't think we can ever have another Gani in our generation. He was a true national icon, leading light and a shining example. I wept like a baby when I heard the sad news that Saturday morning. Death or not, Gani lives on in our minds".
Also lamenting, Nollywood enthusiast and entertainment guru, Edi Lawani, has this to say on the late masses lawyer: "Gani is an icon. An epitome of what a truly conscientious human being should be, a fearless and selfless defender of the common man, a defender of the sacrosanct principles of the rule of law, a true Nigerian to the core". Dear readers, kindly keep a date with The Sun, on Tuesday, the day he would be buried, for more tributes on Gani, from top Nollywood practitioners.
Meanwhile, it would be recalled that Fawehinmi, one of Nigeria's most outspoken lawyers/activists died in the early hours of last Saturday at Lister Medical Centre, Lagos, after a protracted battle with lung cancer. He was aged 71.