Fuji star, Wasiu Marshal hospitalised in Canada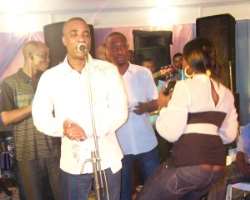 Fuji star, King Wasiu Ayinde Marshal popularly known as K1 De Ultimate is currently recuperating at the Trillium Health Centre, Mississauga, a Canadian Hospital after undergoing surgery.
Although the nature of the ailment could not be ascertained as at press time, sources close to the popular musician confided that the operation which was successful would keep him out of public for about six weeks.
The source who would not want to be quoted in a brief message said, "the worst is over, he is fast recovering at Trillium Medical Centre in Mississauga after undergoing surgery.
Meanwhile, an email enquiry made to the hospital was yet to be responded to at press time.
The hospital which is located in West Toronto according to information available on its website "offers the largest freestanding day surgery facility in North America as well as a 14-hour Urgent Care Centre. Both locations are supported by a full complement of diagnostic, laboratory and pharmaceutical services."
"A regional centre for Cardiac, Stroke, Neurosurgery, and Sexual Assault and Domestic Violence, Trillium also offers the largest concentration of critical care services in Canada. With a specialized focus on women's and children's health services, the Family Care Centre, the first of its kind to be located in a hospital setting in Canada, brings all these services together under one child-friendly roof."
Meanwhile, goodwill messages as well as offers of prayer had begun to pour in from fans of the musician from all over the world through online media fora and social networking sites such as facebook.com.