Monalisa goes underground, avoids media men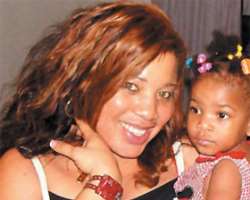 Monalisa and child.....what a way of ending a journey?
Barely a week after Monalisa Chinda admitted that her five-year old marriage with former boss of Questionmark Records, Segun Dejo-Richards, has crashed, the fair complexioned actress may have gone underground to avoid the preying eyes of the media men.
Monalisa last weekend shocked many of her fans when she confirmed months of speculations regarding a crack in her marriage. She admitted that her marriage to Segun Dejo_Richards had broken down irretrievably, thus joining the disturbing list of top actresses whose marriages have failed in recent times.
The beautiful mother of one was briefly spotted at the National Theatre, Cinema Hall I, venue of the two-day brainstorming session organised by the Movie Producers Association of Nigeria, on the effects of piracy on the motion picture industry which rounded off last Monday.
She quickly left the venue, the very way she entered the place, probably to avoid confrontation from the press guys who spotted her and quickly laid ambush for her.
A close associate of the actress told HVP last Monday that Monalisa is not in a good mood to talk about her failed marriage for now. At least, "I can tell you that Monalisa is fine, and may not be in a better mood to comment on her crashed marriage.
She may do that in due time. But I guess she must have said all that she wanted to say through her lawyer, Mr. Festus Keyamo," the source said.
The actress was said to have directed her lawyer, Mr. Festus Keyamo, to officially write to her husband seeking for divorce. The statement of divorce became a public issue recently.
Devastated Dejo was said to have confirmed that Monalisa had given up on their marriage, even though both have a baby last year.
In the statement issued on her behalf by her lawyer, Monalisa said, the marriage broke down because of incompatibility and irreconcilable differences. According to her, "Like millions of other marriages, my marriage had its own strains and stress. I loved and adored my husband but there were many areas of incompatibility between us.
These instances of incompatibility led us to disagree strongly on many occasions. At the end, it appeared we could not manage the situation, which led to the marriage breaking down irretrievably."
The actress, who is one of the 13 Glo Ambassadors, recently selected by the telecommunication giant, said she had instructed her counsel, Festus Keyamo, to file for divorce.
Despite the break_up, the actress was quoted to have said, she would continue to respect her husband. In the formal statement, Monalisa promised to take care of her daughter and not to rehash the sordid details of the failed marriage in the media.
"As a proper African woman, I will continue to respect my husband and will not raise my voice against him, since he is the father of my beautiful daughter. I will not exchange words with him in the media. I wish him well in all his endeavours and I hope he wishes me well too," she said.
The statement, which read like a note of finality, said the delectable actress would not offer any further comments as she would like to concentrate on her career and carry on in her responsibility as a Glo ambassador. The break up is coming as a surprise, as Monalisa, on several occasions, vowed that nothing could separate her from her husband.
She was once quoted to have said at the christening of their daughter, Tamar Kirejesu , that if she were to reincarnate, she would still marry Dejo again.
Sometime, last year, a soft-sell magazine reported that Monalisa had relocated to her uncle's house in FESTAC. She promptly denied it, saying she only went there because of its proximity to her film location then. She described those peddling the rumour as enemies of progress.
Reports had it Monalisa moved out of her matrimonial home about a month ago for reasons she is not willing to divulge yet.