Moladun's Unfulfilled Dreams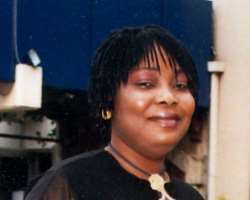 The late Monsurat Omidina's main unfulfilled dream was to witness the wedding of her 28-year old daughter.
The late actress, unknown to many, had been planning for the introduction ceremony of her daughter, Lara.
The proposed ceremony, according to Omolara, the deceased's daughter, was being discussed at the Omidinas' residence on Monday evening before Omoladun died on Tuesday morning.
Apart from Lara's wedding, Omoladun was said to have been planning for the marriage of her first son, Jelili Adekunle Kareem, aged 29.
Jelili confirmed that his fiancée was looking forward to meeting the late actress before her death.
He added that the late Omoladun had been praying to bankroll a befitting marriage ceremony for him.
Also, she had a musical album that was yet to be released.
The album, a Waka music, it was learnt, was completed by the talented actress over a year ago, but could not be released due to logistic reasons