BOUQUI: My Father objected to my career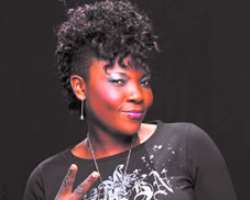 BUKOLA FOLAYAN AKA BOUQUI
Sultry rap singer and gospel act BUKOLA FOLAYAN AKA Bouqui has revealed her passion for music and why she preaches the gospel through her lyrics, in a chat with us:
The Name BOUQUI
When I was in the university, I started an all-girls group called (Gospel Vibes) also known as G-Vibes. Overtime, I became the only consistent member of the group as the name stuck and people call me G-Vibes on campus. So when I decided to take my solo career seriously,I needed a different stage name that is more local,more me from what I was known for initially.I came up with my name to celebrate my Africanness. But then I decided to make it funky and that is how BOUQUI stuck.
Venture into rap music
I didn't choose to rap,rap chose me.This is because I do rap with so much ease that I don't struggle to put words together.My father would always say that whatever you do with so much ease should fetch you money and fulfillment. That is what I have done.Despite the negative public perception of Rap as a ghetto stuff, I don't care about what people think is wrong with the kind of music I do so long as I am happy doing it. I am fulfilled and pleasing God with my music.
Inspired By Kirk Franklin
No, I am just me and I have started rapping before Kirk Franklin came into the limelight. My brother was a rapper who belonged to a group then.He challenged me to the point that I made up my mind to do better than he was doing.Over the years,it turned out to be something I wanted to do and with his help,it became easy for me to start.
Album turnover
Yes,I have two albums- BOUQUI and The Redefination. My first album made the desired impact like it should. It gave me the opportunity to go on tour in the United Kingdom to promote positive attitude in our youths. I have a defined a career path that would impact my society and not just making money only.
The Bouqui brand
The Bouqui brand is about women who have lost their dreams in life.Women don't have to sleep around to make ends meet,they have to build a life for themselves.They can harness their God-given talents,develop skills and turn them into profitable ventures overtime with consistency and live life right.It's not about who people want you to be but who you really are and what you have made up your mind to achieve.
Concert patronage
I have done a lot of concerts.It is basically what I do because it is an opportunity to talk to people to live right and be positive in our society.As a rap artist,I have discovered that people listen to you more than someone they hardly know.
Parental consent
No. I was young then and my father thought I was crazy to go into full time music.As a professor of Biochemistry at The Obafemi Awolowo University,Ile- Ife,he thought I was going into the wrong career path.Overtime,he came to terms with my persistence in pursuing my musical career that he had to give his support alongside my mother.My consistency in doing rap with ease and the fulfillment I derive from it melted my parents.
First day on stage
I was born into a musical family and I can't remember my first day on stage.When I was young,we had a family group called The Afolayan family singers. We go about singing and having fun so I have always been on stage all my life.
Coping with stardom
I don't see myself as a celebrity but a role model.If you don't understand why you occupy a position in life, you will abuse it. It is said that when purpose is not known, abuse is inevitable. Stardom means giving back to the society what it has given you.
Most embarassing moment
My jean trousers ripped open while I attempted to jump into a bus, I was so embarassed that I couldn't look up. I was so lucky to have in my bag another jean trouser I wanted to give out to my friend. I quickly ran somewhere and changed into that.
Coping with male admirers
I go to the right places only.I carry myself with dignity and respect.When you dress well and live a good life,you will attract good things.It will take a drunk to tell you something stupid.I get a lot of stupid text messages which I completely ignore.You can't control what comes into your phone but you can control what happens to you.
Rating Gospel Music in Nigeria
The term gospel music is an individual thing because I believe your life should send a positive message to people around. It should glorify God. Gospel singing is an act and back in the days,it was a style of music.Gospel music in Nigeria is doing well but mediocres have to leave the stage for genuine gospel acts. You can be a Christian and live a good life or be a gospel act and lead a miserable life. I love doing gospel rap because I want to be associated with God.
Background
My name is Bukola Folayan. I am from Osun state and I attended OAU,Ile-Ife, where I studied International Relations. I did courses in broadcasting in Lagos and became a professional broadcaster in 2002 at Eko Fm where I worked till 2008.I quit because I was traveling a lot and didn't want to be distracted.I was born into a family of six,a boy and five girls,I am the fourth.My father is late while my mother is a retired civil servant who is still strong.We are a loving,close-knit family and if I have another opportunity,I would come to my family again.
Role models
Reverend Sam Adeyemi, Tony Rapu,Pastor Poju Oyemade, Bishop T.D Jakes and motivational speakers. I keep sane by listening to these men in a crazy world like ours.If you don't do that, you will lose your purpose in the music industry.
Marriage
I am not married yet, I will do that as soon as I find the right person.
Collaboration With Sasha, Blaze, Kemistry and Dj Jimmy Jatt
A lot of people frowned at that because they thought as a gospel artiste,it was wrong for me to sing with perceived "sinners".If you are in business and you are asked to bring your product,would you say you won't do it because your fellow business men are idol worshippers?Then you are the most senseless businessman in the world because you won't succeed that way.The concept for the collabo was to bring together female Nigerian rappers.I did that song to talk about my God and represent Christ. It was not about me. So,I owe nobody apologies.
Financial rewards
God has been faithful.He is my all suffient-God and not music.