OSHIOMHOLE, AFEGBUA AND DEMOCRACY OF THE STOMACH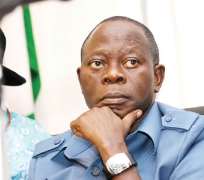 Our attention was adverted to a newspaper publication about The Edo Collectives of which I am privileged to be the Public Relations Officer. Having digested the content of the publication, which was at best gibberish, we would like to, all the same, profusely (and we sincerely mean it) thank the writer, Kassim Afegbua, for his pejorative remarks and malevolent attacks on the group.
But from his full-page publication in the Saturday Vanguard of October 29, 2011 (which was apparently a rejoinder to our advertorial in three national dailies-TRIBUNE, THISDAY and LEADERSHIP- entitled: The NUT Best Governor Award to Oshiomhole: Matters Arising), we have been able to know that our damning verdict-that the comrade governor did not deserve the award-was not well received by him (Oshiomhole).
We had clearly made the point in our publication that it was wrong to turn the labour union into a cartel as Oshimohole and his successor in office, Abdulwaheed Omar, had done; and, using it (Union), as in the instant case of the NUT award, to unjustifiably reward allies. With the contradictions, ab-initio, in the education sector under Oshiomhole in Edo State, we did not need post-hoc justifications for our verdict.
The high jinks in the sector did not put Oshiomhole on a sound footing for the award and we had questioned the propriety in the light of the lingering dispute (with a strike action to boot) between Oshiomhole and teachers in the state over the Teachers Salary Scale (TSS) issue, their non-inclusion in the minimum wage package and payment of salaries in arrears with July salary paid last month.
We had concluded that the teachers whom he scoffed for embarking on a strike action, whom he told not to vote for him if they liked in next year's election and whom he continuously intimidates with sack would not ingratiate him with an award. The award was dubiously packaged for an ally by the National Secretariat of the NUT acting in concert with Omar (NLC President) who is the immediate past NUT National President as nothing on ground in Edo could rightly, quantitatively or qualitatively, justify the award.
This is why Afegbua, in his far-from-altruistic reaction, could not anchor his defence of the comrade governor on his achievements in the education sector because there is nothing concrete in terms of teachers' welfare or development solely propelled by expenditure of state fund in the sector; and, therefore, had to run through the entire gamut of the state economy to look for deceptive "development strides" to justify the NUT award.
By the way, the funds for the renovation of the few secondary schools, which the government claimed it had done and which Afegbua, (Oshiomhole's former Chief Press Secretary, CPS) trumpeted in his publication came from the Federal Government's Universal Basic Education (UBE) funding. How much of the state's counterpart funding has so far been provided to draw down the UBE fund? How judiciously has the State Government expended the fund so far drawn down on the so-called renovation of schools?
We will, very soon, visit the monumental fraud in the renovation of eight secondary schools in the state which the government, by its admission in a newspaper advertorial funded by tax-payers' money, claimed it had renovated. We will present facts and figures to the people of Edo State and ask them, for instance, to go to Maria Goretti Girls Grammar School or Idia College to compare the multi-million naira claimed to have been spent (figure is staggering) and the renovated structure and equipment on ground.
The people of Edo State may then be well enlightened that deception has been the name of governance in the state; and the people's verdict, with passage of time, rather than magisterial verdict alluded to by Afegbua would be the defining verdict: that it is a fact of history that Lucky Igbinedion's eight years in office as governor did not produce concrete development to cheer and he (Igbinedion) has no scruples; but that Oshiomhole with his hypocritical cloak has done so little in terms of building infrastructure and expended over N120 billion by the government admission and yet he wants the world to see him as the best that could happen to Edo State. We will address the deception in the issue of infrastructure very soon through advertorial.
In our advertorial on the NUT award, we were sharply focused on our central argument: that Oshiomhole's condescending attitude to teachers' welfare and insincere commitment to the development of education sector should not have qualified him for the award. The reactions of teachers to the advertorial, which they photocopied and gave mass circulation in Edo State, confirmed their support for our verdict. We have received several e-mail messages commending our intervention.
For the information of Afegbua and his like, especially those in Oshiomhole's government defending his actions and inactions, the interest of our state is the motivation for embarking on this enterprise: members of our group, who are solid professionals, could have put our money in other personal issues demanding our financial attention but because we believe that this is the time to speak against the dishonesty of officialdom in our beloved state, we have decided to profoundly intervene and declare that never again will our people be taken on a path of deception.
Never again will our people be taken in by the propaganda and image laundering frolics, especially the genre by Afegbua who, confronted by the reality of Oshiomhole's foible in the education sector, compelled himself to run through the entire gamut of the state economy to pick some seeming development strides to justify the NUT Best Governor Award given to his benefactor. But we are happy he clearly came across as Oshiomhole's megaphone even though he had tried to correct the likely impression his intervention could create in the minds of the readers.
There is no doubt that he had embarked on the voyage of trying to manage this patently odious and dubious public issue for the sole purpose of further ingratiating himself to Oshiomhole and justifying his being on the comrade governor's payroll even after he had resigned as his CPS between late 2009 and early 2010 to pursue and promote other interests that he considered more important than the interests of Oshiomhole and his government in Edo State.
He certainly considered his self-professed role as General Ibrahim Babangida's media spokesperson more important than the CPS job from which he resigned; why did he resign if he was passionate about Oshiomhole and his government? Whatever might have happened, couldn't he have made sacrifice by persevering on the job and doing for Oshiomhole what he is doing now as a partisan columnist defending the mantra and antics of deception in governance in Edo?
By jumping into the arena of conflict to make his "crying-more-than-the bereaved" intervention to mitigate our damning verdict, Afegbua had unwittingly unraveled as a stomach democrat, unfortunately for him, suffering from the very sardonic essence of the nomenclature of his column- STOMACH DEMOCRACY. His narrative, entitled- "Edo State: Oshiomhole's awards and matters arising" is thus a product of prebendal recourse to his own sarcastic coinage.
And as long as Afegbua enjoys his financial reward for this image laundering, he does not care whether the teachers get their wages and salaries, which represent their direct benefit from the system to which they have committed their lives. He would want Edo teachers to be "proud" of the renovation of school structures from which questionable contract sums, proxies and acolytes, who parade as contractors, might have benefited hugely.
We do not have pity for this stomach democrat whose only interest is not even Edo State let alone the success of Oshiomhole, but how to sustain his standard of living in Abuja-with an apartment possibly in expensive Wuse 2, Asokoro or Maitama Districts and an office accommodation in some equally exclusive and expensive area of the city. It is Edo people whose patrimony is being systemically plundered by some clever persons in government that we empathize with.
Stomach democrats and their godfather will fail abysmally woefully in their grand design to pull the wool perpetually over the eyes of Edo people by their so-called development of infrastructure only at the gateways into Benin City and some road sides where outsiders can see and go with the impression that infrastructure is being built in Edo. As we have said, we will soon interrogate the façade of infrastructure development in order to expose the real debacle underneath that will resolve itself against Oshiomhole.
But as we prepare to call Oshiomhole to account on all areas of governance, we hope to read more of Afegbua's mumbo-jumbo; and, we must say at this point that time will tell who between Oshiomhole, Afegbua and their like on the one hand and The Edo Collectives on the other hand has the interest of Edo State at heart. Until then, there will be no let up in the battle to wrest Edo from the vicious clutches of deceptive and duplicitous public office holder(s).
Lawal Enakhimion contributed this piece from No. 7, Liasu Street, Ikotun, Lagos. He can be reached on [email protected], [email protected] or [email protected]
Disclaimer:

"The views/contents expressed in this article are the sole responsibility of

thewillnigeria.com

and do not necessarily reflect those of The Nigerian Voice. The Nigerian Voice will not be responsible or liable for any inaccurate or incorrect statements contained in this article."
Articles by thewillnigeria.com