Why I love Skimpy clothes — Ebube Nwagbo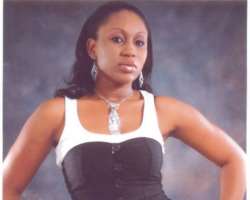 She is fair and beautiful and ever since her entry into the industry has introduced a fresh wave of youthful innocence, professionalism and quality acting that instantly made her one of the female actress that Nollywood producers trip for. But Ebube Nwagbo is not just your ordinary girl that seems to be laid back; she is one part the good girl every mother dreams of and two part the belle many wives would wish not to come near their husbands. In this chat with AHAOMA KANU, the Mass Communication and Public Administration graduate of Federal Polytechnic Oko, opens up on why she comes out hot.
Lack of activities in Industry.
Yes, actually the jobs have been slow in coming; I have not been in the movies the way I used to because there has been a little set back in the industry. We have been trying to look out for something better than what we are doing right now. I just finished shooting few weeks back, and so far so good. We thank God.
Breaking into Nollywood.
I didn't make much sacrifice. It is God and hard works. It wasn't easy for me to break into the industry when I started new. It was from the East, and coming to Lagos to do jobs wasn't easy for me. I tried to prove to them that coming from east do not mean that I cannot do the acting job. I tried as much as I can to do my job. I became very hard-working and God was on my side too.
First movie
Arrested by Love.
Sex for roles.
I have not dated anybody. I have not dated any movie producer to get jobs. That I was working with them did not mean that we had romantic attachment. It was the platform I used to get recognized, I was not dating anybody. They (producers and directors) believed me and gave me the opportunity to do it. Everybody felt that for them to use me so frequently, they must be dating me. No, they were not. I think God used them to bring me to limelight, and I made good use of that opportunity.
Favorite roles
I have the real African looks, and when ever they want someone who will look like the real African girl, I will come into their heads and they will call me. That is where I find myself in. I like it, because it is more challenging than everyday script. Everyday movies is just like playing your real self, but playing back in the days is more tasking, because you will try to come out well.
Character adaptations.
I don't know how Nigerians do that. I think it is just God's favour. We are trying to play who we are not, and after one of such acting, you are doing another one just like that. We are used to it, but it is not easy.
Relationship with Jim Iyke.
Jim and I are colleagues. We have been working together, but there has never been anything like romance between us. We have been working and we have a very good working relationship, and we are good friends. The first movie I did was with Jim and since then we have been working together. We have come a long way.
Personality and the media.
I think they are trying to bring me out of my shell. I used to keep to myself a lot before now, but I think they are trying to bring me out of my shell. I don't think that they are going to succeed, because I will try to remain who I am.
Dress sense.
I love wearing skimpy things. I love skimpy things very much. I go for fashion, that in vogue. I can wear a long or a short thing, once it is fashionable. I am into showbiz and I have to represent what I do. The truth is that I have passion for very skimpy and short things.
Favorite hang out place.
I do club in Club 10; funny enough I have been to Club 10 just either twice or thrice. I am not really a regular there, but I have been there. I go there to have fun and there is nothing special about it.
Feeling about achievements.
I am very happy with myself, Being alive is something that I have to be very happy about. I am still very relevant in the industry, and it makes me happy too. I am not saying that everything is working out fine, but I thank God for who I am today. Knowing that I am a very young girl at my age, I know that I still have a long way to go and I am very happy about that and I thank God for making me Oluebube, because that is my name. I am very proud of my success so far.