TOKUNBO: NORTHERN NIGERIA'S FASTEST RISING MODEL AND ACTOR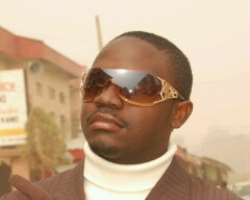 In Nigeria, living in the North and being in the entertainment industry might not always be a bed of roses because as far as the entertainment industry is concerned, the north might still be backward in that area. Interestingly, inspite of this wrong insinuations, there are a lot of talented entertainment practitioners who have been consistent and have also paid their dues in the industry. Be it in fashion, music, modeling, broadcasting, acting, comedy and others. Kano particularly has had a fair number of show biz practitioners who are actively involved in contributing their quota to the growth of the industry. Names like Emmanuel Gabari, a singer, writer and one of the most popular and well-travelled on-air personality, presenting several programs both on radio and television. He has been interviewed three times on Voice of America (VOA) Washington DC, USA, and also twice on Nigeria's largest television network Nigeria Television Authority (NTA) Lagos. There is also the London-trained fashion designer Hajia Zainab popularly known as Pink Zee who has won several national and international awards in fashion shows. The list goes on and on about some northern-based show biz personalities. Tokunbo R.U. Adeyemi whose runway name is GOLAD, is a cool-headed and consistent face in the modeling and acting industry in Northern Nigeria. He has modeled for so many top designers and hopes to hit the international scene some day. In an interview at the venue of a recent fashion show held in Abuja the Federal Capital Territory of Nigeria, Tokunbo tells his story about how he got into the modeling industry. Here are excerpts:
HOW DID YOU GET INTO MODELLING?
Well, it all started way back in my childhood days. I have always been a very neat and Fashion-conscious person. So from my primary school days, I have been receiving lots of awards and recognitions for being the best well-dressed pupil. It went on to my secondary school days at St. John's Boys Model School , Edo State where I was appointed the Social and Uniform Prefect. Professionally, it began when I followed a very close friend of mine to a fashion show auditioning and one of the designers saw me and walked up to me to say she would like me to model for her. I was a bit scared because I had not been on the run way before. But due to my interest in fashion, I agreed and surprisingly, I was the first act or model to step out and show case the clothings for the evening and I got a lot of applause from the audience. That really inspired and encouraged me to continue because deep inside of me, I was very tensed but the applause I got helped me push through the night at the fashion show. Since then, it's been from one fashion show to another, and am grateful to God for it.
HOW MANY FASHION SHOWS HAVE YOU ATTENDED AND ALSO MODELLED FOR?
It is a very difficult question to answer because since I started modeling professionally, I have lost count of how many shows I have done. The job is a very hectic one. I get a lot of invitations, so I travel a lot too. I have modeled in several fashion shows in Kano, Portharcourt, Lagos, Abuja and was once invited to walk the runway at a show in Accra Ghana. The truth is if you are good, you get calls almost every time to appear on the runway. Sometimes you may not even know what fashion show it is. The designer or agency just calls you up and tells you to send your statistics and that your services will be needed for a show. It could even be a musical program or an award ceremony and there is a segment to show case Africa's culture through fashion.

WHERE ARE YOU FROM AND WHAT IS YOUR EDUCATIONAL BACKGROUND?
I am from Osun State. Although I was born in London but returned to Nigeria with my parents when I was four years old. I am currently an undergraduate student of Bayero University Kano and I have been combining modeling, acting and studies.
SO HOW DO YOU COPE JUGGLING THESE THREE TIME-CONSUMING DUTIES?
I sometimes also ask myself how I have been coping. Like I said before, modeling is a very hectic profession. You have to attend a lot of rehearsals, auditioning and sometimes long hours of photo sessions. Whenever I have to travel out of Kano for fashion shows, I go with my lectures notes and read at night. My studies is equally as important to me as my career. Education gives you a leverage in life to become anything you want to. Luckily, for the acting in movies, they are more of minor roles, so its not as time consuming as my modeling job that requires my attention often. But all the same I thank God for His grace and strength. I know I will get there some day.
WHO ARE SOME OF THE FASHION NAMES IN THE INDUSTRY THAT YOU HAVE MODELLED FOR?
I have modeled clothing lines for big names like Modella Couture, Rima Fashion, Pink Zee's, Trendy Looks Couture, Yaaji Fashion, U Fashion Collections, Naija Ninja, Red Dot Design. There are so many I cannot remember again.
HOW DO YOU RELAX AFTER A HECTIC DAY?
I take a cold bath, have my meal, watch some movies and go to sleep. In this profession, you need a lot of stamina to do your job. So I try to rest a lot whenever the need arises or whenever I have the slightest free time.
WHAT ARE YOUR FAVOURITE COLOURS?
Gold and white.
ASIDES DRESSING UP FOR YOUR MODELLING SHOWS, WHAT CLOTHES ARE YOU MORE COMFORTABLE WEARING WHEN YOU ARE NOT ON STAGE?
Well, it really depends on my mood, where I am going and what function am attending. Basically, I am more at home with casual wears like Jeans and t-shirts. But I also dress corporately like wearing suits whenever I need to attend a public function. I sometimes wear uniquely-designed native/traditional attires when it has to do with a wedding ceremony or something more indigineous. So am an all-rounder but it still depends on where am going and what am to do.
WHATS YOUR ADVICE TO OTHERS WHO WANT TO TAKE UP MODELLING AS A CAREER?
First of all, they have to know that being a model is not an easy thing. It goes beyond just walking on the runway. It requires a lot of hardwork, perseverance, concentration and being focused. You also have to be current and always up-to-date with the latest trend in the fashion world. You have to read a lot, watch a lot of fashion show videos to equip yourself and also be abreast with the current gists and styles in the international and local scene. Most importantly, I would advice everyone who wants to go into modeling to also get a good education, so that even if modeling doesn't work out or when you are at the early stage of the career, you can also find and have something to fall back at, pending when you hit the jack pot.
WHAT WOULD YOU LIKE TO ACHIEVE IN FIVE YEARS TIME?
Hmm. Na wa o! Well by God's grace, I would like to finish my education and also step up in my career. I pray to walk the international fashion run way some day. God willing, I would like to be an international model in the very near future.