CELEBRITY QUOTE: CHIOMA CHUKWUKA AKPOTHA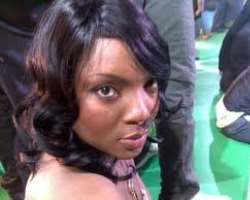 I agreed to my marry my husband because he was the only person who knew me for who I'm.I met him before I became an actress and it was just on a platonic level,nothing very serious.I liked him as a person,but I kept looking elsewhere.
But when the emptiness was there,that was when I realized I was missing out on a lot of things.
We courted for a very long time,but not too long.
I love his simplicity,and personality.He's a very humble and gentle person.He's God fearing,very humorous and so many things that I can't begin to list now.
I like everything about him.There is no total package.You have to like everything about a person for you to be able to settle down with the person.
My journey into matrimony, it's been very beautiful and very rewarding and I'm grateful to God for that.
The greatest lesson I learnt about marriage is to be patient,you don't talk all the time.You've got to do more of listening than talking.
Listening to what your partner isn't saying sometimes results to what he or she does not want to hear.
You should be sure of who you are and who your partners is.That is the first thing and be sure that the love is enough to pull you through.