NNPC As A Cess-Pit Of Transactional Opaqueness - CPC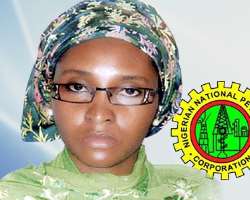 EXECUTIVE SECRETARY OF NIGERIA EXTRACTIVE INDUSTRIES TRANSPARENCY INITIATIVE (NEITI) MRS. ZAINAB AHMED
The Congress for Progressive Change (CPC) has watched with dismay the ongoing drama in the House of Representatives probe into the Nigerian National Petroleum Corporation's (NNPC) indebtedness to the federation account. It is interesting to note that the Executive Secretary of Nigeria Extractive Industries Transparency Initiative (NEITI) Mrs. Zainab Ahmed, in a rare show of un-blinkered candor, had said that NNPC indeed owed N842 billion, and not N450billion to the Federation Account.
NNPC which is supposed to be a Cash-Cow for the Nigerian Nation, is now a liability and cesspool of odious illegality, shenanigans and under-the-table transactions. The NEITI Chief Executive had also accused the NNPC of having "several discrepancies and flaws" in its transactions. This assertion was collaborated by the discovery, in the course of the Legislative probe, of NNPC's secret account operation!
But the Honorable Minister of Petroleum Resources, Mrs Diezani Alison-Madueke, had glibly attempted a defense by loudly and impudently declaring: "The NNPC budget is not an appropriated budget. We function like a private commercial enterprise." She went on to assert that the NEITI report did not capture the credit period of N389.5 billion. "If this (N389.5 billion) is deducted from N842.7 billion, of course, you will get N450.7 billion, which is why we are here," she further alleged.
The unanswered questions in this culture of infernal impunity are:
* Is it part of NNPC's enabling decree to keep back the statutory earning to the coffers of the Nigerian state?
* Does it not smack of tardiness to make deductions from Nigeria's earnings that were not appropriated for, since the budgeted expenditure for subsidy was N240 billion?
* Why was the accepted N450.7 billion not paid into the Federation account?
* What specific 'operation' or 'project' was the fund used to execute?
* Is there a nexus between this profligate expenditure and the financing of the electioneering campaigns of Dr Goodluck Jonathan in the April 2011 elections?
* Would that state of bankruptcy account for the strident call for removal of oil subsidy?
Indeed, as a Party, we are not unaware of the predilection of this PDP-led Federal Government to cronyism and opaqueness in all dealings affecting the Nigerian state. What is bewildering is how this administration has iniquitously used its apparent rapaciousness as a subterfuge for drawing more 'blood' from the already 'bloodied' Nigerian citizenry. This, too, shall pass!
God bless Nigeria.
Rotimi Fashakin (Engr.), National Publicity Secretary, CPC.