SSS Detains Organizer Of 'Occupy Nigeria' Planned Protest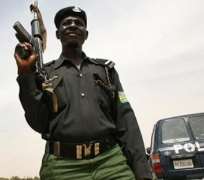 SAN FRANCISCO, November 09, (THEWILL) – The State Security Service, (SSS) has detained an organizer of protests modeled after those presently protesting against Wall Street and the banking sector in the United States.
Wale Ajani is helping to coordinate protests over government's planned removal of subsidies on petroleum products.
Activist Wale Salami told the Associated Press that Ajani was invited for questioning Wednesday by the SSS over the protest and remains in detention without any charges filed.
Nigeria is one of the world's top exporters of crude but its often problematic refineries are unable to refine adequate quantities of petroleum products for domestic use, hence its dependent on massive importation often subsidized at a huge cost to domestic users.
However, allegations of fraud and corruption have continued to trail the policy with officials of the NNPC, PPPRA and marketers accused of ripping off the state in the process.