ACE MOVIE PRODUCER/DIRECTOR TCHIDI CHIKERE IN N5 MILLION DEBT MESS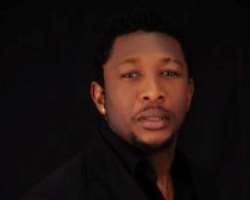 Nigerian movie industry,Nollywood is one sector that accommodates every filmmaker who is ready to infuse his or her knowledge and contribute personal quota to move the sector forward.As a result of this,the industry has witnesses influx of individuals who have interest in movie making,in possession of working capital but have little or no experience in this aspect of profession as they seek and hire the services of renowned filmmakers to produce their movies.
This type of transaction has either made or marred notable names in Nigerian movie industry,as cheating and lies have always underlined the deals.The above description could fit the relationship between top movie director,producer and actor Tchidi Chikere and a Delta State born cum European based rich model.
It was revealed to us that this pretty model who has passion for film making stormed Nigeria early last year with three movies scripts and her millions to run the production.
Having come in contact with Tchidi at Europe,they agreed that he will produce and direct the three films for her,while she will play roles the three films.
However,this is not the cause of their fight as Tchidi not only produced the films as agreed but also he directed all the star actors and actresses,including his executive producer who interpreted her roles.
As gathered,trouble reared its head between these two people who have enjoyed a good working relationship for many months,after the three movies have been edited,premiered at Asaba Delta State and ready for distribution.
According to the information gathered,Vida is completely new in the industry and is not aware of proper people to contact for various businesses.
At the point when she needed a good distribution network and marketer to either buy her films or dispense them into the market,it was alleged that Tchidi who was supposed to connect her to a movie marketer,promised to distribute the movies.The young showbiz babe was said to have given Tchidi an undisclosed sum of money for mass production of the CD's printing of jackets,posters,censorship and miscellaneous expenses as she is not always around in the country.
It was alleged that the ace filmmaker was to give Vida feedback on financial aspect of the transaction and how much her movies are worth out there.
This transaction we gathered took place over three months back,as such Vida kept anticipating for her movies to hit the shelves but to no avail.
According to the source,anytime she calls Tchidi to enquire about their unfinished business,he will allegedly inform her that the distribution will commence in few weeks,while on other occasions his contacts will not be reachable.
After waiting for many months,Vida reached him through his cell phone number and threatened to invite the police and legal practitioners into the issue if he refuses to be straight and do what they agreed.He was said to have pleaded with the model turned actress on phone and agreed that he will handle everything properly and be accountable to all financial aspect of the distribution.
The source informed that Tchidi's humility calmed down the battle that had started brewing between them.
Meanwhile we contacted Vida Modelo to confirm the story and she narrated her ordeal with the award winning movie director thusAnyway,there was an issue like that;I had a serious misunderstanding with Tchidi over distribution of my movies.
The thing there is that I trusted him so much and I won't say he has betrayed me because we have settled the dispute.
This is because he promised to be straight forward henceforth,because I insisted that I will invite the police and sue him.I will rather say that I will appreciate giving him sometime as he demanded to see what will happen.
The truth of the matter is that he wasn't fair to me,infact he wasn't straight forward because he told me that he is capable of distributing the movies or getting a capable marketer who will do that.So,I calculated all the expenses and handed him over everything,but after many months my movies are nowhere to be found in the market.I think it is only natural that I became angry because I am wondering what would have happened had it been that I have traveled to Spain as I told him.
I am grateful to God that everything seems to be in order now,because you are talking about my hard earned money.I am a very good friend of Tchidi and we are still friends.