ACTRESS UCHE JOMBO CAUSES COMMOTION AT INTERCONTINENTAL BANK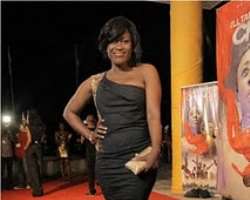 Nollywood diva Uche Jombo was the cynosure of all eyes on Thursday,November 3,2011 at Surulere branch of Intercontinental Bank.
We gathered that Uche was shouting and screaming at the top of her voice that she wants to close her four accounts and wants to be paid for damages.She raised her voice so loud that everyone's mouth were wide open.
According to sources,Uche decided to close these accounts because of bad service with her visa card.
We learnt that she was recently in the States to shoot the concluding part of the Damage trilogy and ran out of cash because the bank messed up her forex account
The poor customer service got her pissed off and decided to close her four accounts