Council Of Women Societies Endorse Aisha Audu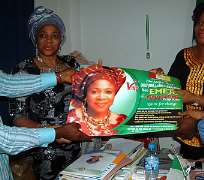 ABUJA, November 08, (THEWILL) - The governorship aspiration of the former First Lady of Kogi State yesterday received a boost as the President of Council of Women Societies, a foremost women group, Mrs Nkechi Okemin Mba, pledged to mobilise women to actualise her aspiration.
Aisha Audu Emeje is a governorship candidate in Kogi State on the platform of Justice Party.
The National President of the association made the pledge when Aisha paid a courtesy visit to the secretariat of the council in Abuja.
She said, it is therefore incumbent on all women to identify with a woman candidate that is genuinely passionate about the people.
'We will mobilise the women to vote for you. We are in the majority and we are the ones who determine electoral victories. We insist this time that we want at least one female governor out of 36'" she stated.
Aisha enjoined members of the council and the entire women to join hands with her in her quest to deliver greater governance and to support her aspiration not only in this crucial time of elections but also when she is sworn in as the next Executive Governor of Kogi State by the special grace of God.
Nkechi said that as far as the group was concerned, she remains the best in facing the challenges of delivering good governance and that the group would always support the best women anywhere.
She said her group would not only support her now but would be honest and constructive in their appraisal of her programmes and policies when she is elected as the challenges of governance is beyond blind celebration of mediocrity. She said further that her group with members across Nigeria and in Diasporas are conscious of their task.
In her response, Aisha promised to run a government that would be receptive to the intelligence and wealth of ideas of professionals that have great vision for Kogi and enjoined members of the group to hold her to her promises and call her attention to any perceived deviation from her stated policies as she intends running an open-door policy in her administration if elected as the Executive Governor of Kogi State in the forthcoming elections.
She said we will strengthen the monitoring and evaluation of private health care service providers to check quacks.
"Our emphasis will be on preventive mechanisms we will rejuvenate the Child Welfare, especially immunization against the six vaccines - preventable Diseases, Maternal and Child Health, Environmental sanitation, Family Planning, Health Education, Maintenance of statistical records and Control of Communicable Disease.
We will make antenatal free at all levels, free medical attention for the aged and disabled. We will also equip and strengthen the Primary Health Care to cater for the medical needs of the rural people," she added.