African China Slams Timaya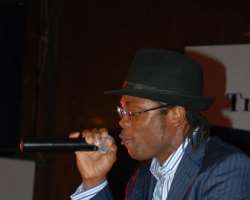 Award-winning dancehall act, Chinagorom Onuoha a.k.a. African China, has lambasted his controversial colleague, Timaya, saying he has got nothing to offer as a dancehall/reggae artiste.
Speaking during an interactive session with journalists in Lagos recently, the Mr. President crooner noted that the former portrays himself more as a Makkossa singer, adding that what the Bayelsa State-born Dem Mama crooner promotes is dancehall.
Timaya, according to African China, brags a lot about his lifestyle and wealth, therefore he ought to be call to order.
"Look, Timaya, to me, is not a reggae or dancehall artiste. He is a Makossa act. The truth is this, Timaya's brand of music is not reggae and his lifestyle does not portray the principles of reggae music.
"True reggae acts don't brag over material things, they simply mirror the society and use music as a tool of change," he argued.
Meanwhile, African China's fourth album titled Return of The Legend featuring award-winning singer, Tuface Idibia in Loving You Everyday, will be marketed by CN Media.
His previous album, London Fever, was widely speculated to have been a flop as it performed below expectation.