Baba Suwe freed on bail after defecating 25 times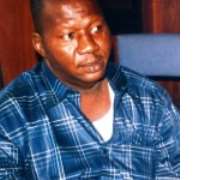 advertisement
Baba Suwe has been  freed on bail after 25 closely monitored bowel movements produced nothing suspicious.
 Babatunde Omidina, known by his stage name Baba Suwe, was arrested last month at Lagos's international airport where he had been due to take a flight to France.
But after 24 days in detention during which his bowel movements were earnestly followed by authorities and the media, an apologetic High Court judge in Lagos ordered his release.
Judge Yetunde Idowu told the frail and emaciated looking actor: "I wish you well. Take care of yourself. You are free to go home."
Omidina was detained on October 12 as he was about to board an Air France flight to Paris. The drug enforcement agency said he had "allegedly tested positive to drug ingestion."
"There have been several examinations carried out on him and no banned substances have so far been found," his lawyer Bamidele Aturu told the court on Friday.
"He has excreted more than 25 times," he later told AFP.
Nigeria is a major drug trafficking hub for European bound drugs from Latin America.