HOW GOV.SYLVA FLEECES BAYELSA...OWNS MULTI BILLION PROPERTIES IN PECKHAM AND STUDRIDGE IN LONDON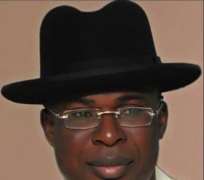 Fresh facts have emerged,that in his few years as Governor of Bayelsa State,Timipre Silva has grossly fleeced the state,diverting state cash to foreign accounts and to his private estates,as is the status quo with most Governors today.
According to the source,Silva has a string of foreign accounts,personal estates,hotels in and outside Nigeria,equity shares,supermarkets scattered around Bayelsa and beyond and properties in London,etc,running into billions of Naira.
In London Silva is alleged to have an account with Barclays Bank with account number,004186943 with sort code 206242.As at March 2010,the balance was £14,702,812,64 million.
He operates an Abbey National Bank Instant Saver Account,number H6828466BHW.As at March 2010,the balance was £6,751,873,84.million.
His account balance as at last year National Bank was £3,687,864,35 Million.
Silva allegedly owns two properties in London.One at 11 Studridge Street,on Sea London,SW1,with title number MX674738,the other at 5 Wichendon Road,Peckam Ryle,London,SE15,with title number MGS398290.
He owns the Moment Newspaper,Marilin Maritme Limited,Royal FM Station 95.5,with a front named George Allen Fente,has 70 percent equity shares in Azekiel Dredging and Construction,with a former commissioner,Dr Geruani,as front,a multi billion naira supermarket in the high brow Guateng district in South Africa,and an estate in the Bloemfontein are in South Africa.
Has a multi billion naira estate of 1000 bungalows in Akwa Ibom State,owns the Development Research Derivatives Limited,Alpha Star Paints located near Bayelsa Plastic Industry,Lantana Nigeria Limited,in Port Harcourt,and an oil firm in Abuja run by one of the stooges,Mr Von Dimeari Kemedi.
A group,Initiative For Restoration of Accountability(IRA),has urged the EFCC to investigate the Governor.The IRA led by Miebi Macdonald and Timitimi Telema said" It has become obvious that most of the I'LL gotten properties of Governor Silva were not included in the asset declaration form"
The group said further we appeal to the anti graft agencies to get to the root of these matters to help Bayelsa State recover her stolen wealth at least to complete all the ongoing projects in the state