Gori Hassan goes incommunicado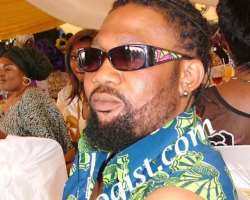 Following his release from police sta tion, Gori Hassan, the ex-husband of Ayo Adesanya has gone into hiding. Gori was said to have stabbed one Gbenga Oshibanjo with broken bottle after an argument on who stole some money.
Gori was said to have told his boys, Lagbaja and Seun to hold Gbenga down, while he broke a bot tle and stabbed him in the full glare of the public. Gbenga was said to have fainted and was rushed to the hospital by onlookers. Eye wit nesses said Gori carried on as if nothing happened and boasted that nothing would happen to him because his brother is the baale of the area.
However, there was a twist to the story as policemen later stormed his residence on Cole Street, Lagos and effected his arrest. His victim and those who were sympa thetic to his assault were happy but their joy was cut short when the police station behind Stadium Hotel in Surulere got a call from a highly placed officer ordering them to release Gori. Gbenga, the victim has been crying foul and alleged oppression caused by Gori's brother who is the baale (chief) of the area.
Gori who used to be very visible has, how ever, gone under ground since the inci dent happened as he switched off his phone and was said to have tactically abandoned his house. He is said to only come home when no one would see him and lay low when peo ple are around. When Sunday Sunpaid a visit to his house, a young man who told us he was not in and would not be available until next week, repeated phone calls to his MTN line has been perpetu ally unavailable.