QUEST FOR A DECENT JOB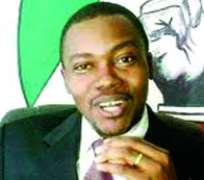 • Esele
Every year, on October 7, the world celebrates Decent Work Day. It is a day set aside by the International Labour Organisation (ILO) to ponder and reappraise this notable programme that is geared primarily to provide succour, respect and dignity at the work place.
The concept, formulated by the ILO's constituents, governments, employers and workers, came as a means to identify the body's major priorities. It is based on the understanding that work is a source of personal dignity, family stability, peace in the community, democracies that deliver for peoples and economic growth that expands opportunities for productive jobs and enterprise development.
According to the President General of Trade Union Congress, Comrade Peter Esele, the World Decent Day deal also reflects priorities on the social, economic and political agenda of countries and the international system. 'In a relatively short time, this concept has forged an international consensus among governments, employers, workers and civil society that productive employment and decent work are key elements to achieving a fair globalisation, reducing poverty and achieving equitable, inclusive and sustainable development. However, as much as the world-over strive to achieve a certain equilibrium in decent work, it has to a large extent remains a mirage in Nigeria.
Association of Senior Staff of Banks, Insurance and Financial Institutions (ASSBIFI) has in the past five years annually organised a seminar to draw attention to the plight in Nigeria's workplace. At this year's event held penultimate Friday in Lagos, TUC President critiques the regulatory authority in the finance industry vis a vis its impact on decent job. He among among others identified the Great Depression which dealt a great blow on world economy in terms of financial crisis and prospects as a major set back in the decent work agenda.
Esele explained that the largest developed countries, notably, those where the crisis originated have entered into recession. Though spill over to other countries was initially small, but several emerging economies are now being hit hard assumptions about a 'decoupling' of these economies have indeed proved wrong.
Esele noted that the effect of the global economic crisis which is already taking its toll on developing countries including Nigeria, no doubt will impact negatively on the achievement of Millennium Development Goals (MDG), including decent work for all.
It is more worrisome bearing in mind that, even in the pre-crisis period, growth patterns in the country led to only negligible reductions in poverty. Esele lamented that decent living and working conditions still remain out of reach for large numbers of people, as the crisis continues to spread throughout the real economy by means of three mutually-reinforcing transmission channels, namely: the limited availability of credit for working capital, trade finance and viable investments in the real economy, the credit crunch, cautious spending decisions, leading to lower output, employment and prices, in turn affecting confidence among consumers and investors, the vicious cycle of depression and international trade and investment linkages and remittance flows.
'The consequences of the crisis on labour markets have been visible since 2008, and as the crisis continues to spread and job losses mount, worldwide unemployment could increase by an additional 40 million by the end of 2011. 'The bleak labour market picture affects certain groups disproportionately, notably women, migrant workers and youth. The nation's financial sector, construction and automobiles are suffering the most. In general, export-oriented sectors, which in many developing countries are major providers of formal jobs, notably for women, face the prospect of rapidly shrinking world markets.
'And the impact of the crisis on labour markets will go beyond job losses. In particular, the incidence of informal employment and working poverty will rise, aggravating pre-existing challenges,' he said.
The labour leader believed that though several measures have been taken by the regulatory authority to mitigate the labour market and the social consequences of the crisis, he noted that the amount committed for financial rescue measures has been far in excess of fiscal tools deployed to stimulate demand, output and employment, hence the inability of the plans to succeed so far.
He went further that in spite of the unprecedented magnitude of the recent rescue measures to banks, it is yet to revive bank credits to level needed to bring in the much-talked-about confidence to attract foreign investment into the sector. In order to avert the risk of systemic collapse, Esele opined that the Central Bank of Nigeria (CBN) should extend to rescue financial institutions with capital injections, credit guarantees and sometimes outright assumption of bad loans.
He insisted that protecting bank's solvency and restoring the availability of credit to enterprises and households was rightly regarded as a pre-condition to avoid a total collapse of the financial system, with unpredictable consequences for the real economy. 'Though I must confess that these fiscal packages do not focus sufficiently on decent work and are not coordinated, thus failing to boost economy. Even Federal Government establishments including the Independent National Electoral Commission (INEC) have vehemently refused to be unionised,' he said.
The labour leader stated that wherever there is no union, there can't seems to be decent work.
Esele however proferred that it is high time for the nation to make a policy shift from the ideal of present economic scenario and dependent on white collar jobs with attendant risks which has not taken the country anywhere and begin to evolve new approach that would be suitable to the environment and climate.
Green jobs as an alternative:
Esele said a recent report funded and commissioned by the UN Environment Programme (UNEP) under a joint Green Jobs Initiative with the International Labour Office (ILO) revealed that sustainable economy can no longer externalise environmental and social costs. The price society pays for the consequences of pollution or ill health for example, must be reflected in the prices paid in the market place. Green jobs therefore need to be the decent work for appraisal.
The report recommends a number of pathways to a more sustainable future directing investment to low-cost measures that should be taken immediately including: assessing the potential for green jobs and monitoring progress to provide a framework for policy and investment; addressing the current skills bottleneck by meeting skill requirements because available technology and resources for investments can only be deployed effectively with qualified entrepreneurs and skilled workers; and ensuring individual enterprises and economic sectors contribution to reducing emissions of greenhouse gases with labour-management initiatives to green work places.
The report, he added, finds that green markets have thrived and transformation has advanced most where there has been strong and consistent political support at the highest level, including targets, penalties and incentives such as feed-in laws and efficiency standards for buildings and appliances as well as proactive research and development. And examples of massive green jobs creation in Nigeria can come from a bio-fuels industry based on cassava and sugar cane crops which might sustain an industry employing 200,000 people. Also, the global market for environmental products and services is projected to double from US$1,370 billion per year at present to US$2,740 billion by 2020, according to a study cited in the report.
We can create good jobs for a decent life:
Insisting that we can create jobs or a decent life, Esele threw the posers: 'Work is a task of life. Are we promised jobs because manipulators only want what is not theirs? Is it right to give manipulators what they want so we can have a job and live? Are we all hooked and netted in a co-dependent relationship of a dysfunctional system?
Is the 'business as usual' mantra saying 'only growth will create jobs' leading to the collapse of human civilisation? We live on a finite planet.
Must we deny we are destroying our biosphere? Are we saying environmental protection is a barrier to doing business as usual? Are we mainly caring about ending our own poverty, unemployment and fear? Are we manipulated for our consent by our need to work to live?
Especially now, do we need to ask if our global economy will take us to an effective and sustained democracy for all the people, for social equality, social justice, stability, freedom, and peace for all members of our human family?
Are we destroying democracy by maintaining an elitism-elite who want endless power and control for their own needs? Or should we choose to immerse ourselves in our democratic evolutionary stream? You decide. We have the ability to create good jobs for a decent life for all using our enormous population which is estimated at over 150 million.
The National President of ASSBIFI, Comrade Sunday Salako, also stated that the seminars bankrolled by his union over the years has not really impacted on the desired decent work agenda in the country.
'What do you expect when Nigeria runs a slave camp and our government is not doing anything to checkmate the employers who indulge in the practice,' he lamented.
He, however, said that the lukewarm attitude from the government would not in anyway debar his union from continuing to create necessary enlightenment on the need to have decent job in the country.
Comrade Salako said part of the steps underway is to take the campaign to other states in the federation as well as produce a communiqué which would be made available to other affiliates and employers.
In his paper entitled: 'A Critique of the Regulatory Authorities in the Finance Industry: The Need for Decent Work Agenda,' Professor Sola Fajana, Vice Chancellor, Joseph Ayo Babalola University, Osun State, stated that the provision of meaningful work represents an essential component of poverty reduction or alleviation efforts.
Professor Fajana stated that the decent work deficits in the area of unemployment centres largely on how to eliminate the large scale unemployment that leads to poverty, especially among youths and women.
'The ineffectiveness of previous policy measures to make significant impact on this serious socio-economic and psychological malaise suggests new policy directions and strategies underpinned by effective implementation,' he said.
Charging that it was critical that government tackles the rising youth unemployment especially in the Niger Delta, Fajana also identified unemployment-related decent work deficits as thus: managing the imbalance between the demand and supply of labour of all ages; addressing the low quality of work and pay which under-employment accentuates; redressing structural imbalance in the access to jobs among older and younger job seekers; and improving the employability of graduates who currently suffered lack of market-ready skills and competencies.
He, however, blamed the laxity of the Labour Ministry to carry out effective monitoring on compliance to lack of financial capacity. 'Until recently, factory and labour inspection continued to attract very low budgetary allocations, in spite of Nigeria's ratification of Convention on Labour Inspection. It is observed that for budgetary allocation purposes between 2001 and 2005, the ministry was usually subsumed under social and community services along with several other MDAs and given pittance, whereas education, health and defence had designated heads,' he said.
On the issue of defects in banks regulation which has a dismal effect on decent job in the sector, Professor Fajana advised that a new regulatory architecture would strengthen and enforce prudential and systemic risk management.