ANTP Presidency: I may step down if ... - Odule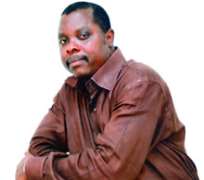 Dele Odule, an actor and producer, speaks with Ruth Olurounbi on sundry issues. Excerpts:
How has life been for you at 50?
WELL, to God be the glory. So far so good, I think I've enjoyed every bit of my 50 years of existence. Everything is unto the Lord. I've had my ups and downs, and challenges like every other person who has attained such an age. I thank God.
You don't look your age. What's the secret?
The secret is that I don't stress myself unnecessarily; I take things the way they come. I don't forcefully look for what I can't get; I don't believe I have to get it at all costs. If it comes my way, fine , and if it doesn't, fine.
Did you come into acting by accident or was it something you had always wanted to do ?
It was something I wanted to do right from the beginning and I thank God that I am doing it. I didn't come into acting by accident. The environment I lived then helped my artistic career. After the demise of my parents; I lived with my big aunt in the village and a lot of activities were going on then. So, I discovered that I was artistically endowed as I could act, dance and sing, so, I decided to go for it. While I was growing up, I just noticed that I loved acting and I went for it.
You are pushing for MOVIECON bill, saying it will change the way movie business is being done...?
Exactly. I don't believe in people doing something they don't have an orientation in.It is not compulsory that you have to go to a university to train as a theatre professional, but it is still good and helpful for you to have an orientation about the job, to have a tutelage under someone who has that experience, which is what I went through as well. I started my acting career with late Dele Ogunsansaya in the 70s and I had my tutelage under several beautiful people but I have been on my own for over 30 years now.
Your parents died when you were very young…?
My mother died in 1969, to be precise, April 26th, my father died 39 years ago…
Could you say that there's been a blessing in that experience for you?
Well, when it comes to this career that I have chosen , I would say their deaths were a blessing in disguise because maybe if they were to be alive, they would have discouraged me from being in it fully like I said earlier on that I have not been in any other profession since I started my acting career. Maybe if they were to be alive today, they would have discouraged me and I might not have been in this business today. I want to say that their passing away has made it for me to become an actor. But all the same, if they had been around, they might not have discouraged me. They might have supported me and that could have taken me to a higher place.
Speaking of education, you're currently studying Mass Communication at the Olabisi Onabanjo University despite bagging a degree in Theatre Arts from University of Ibadan, this looks like an adult trying to fulfill a childhood dream, isn't it?
Exactly. I want my mission to be accomplished and that is why I have decided to go back to school. I decided not to go for Theatre Arts at the higher level because I believe that with my experience, I have done enough. So, I felt like getting another experience in another field entirely, that was why I have chosen to go for Mass Communication and I believe that at a latter day, when I retire from active acting, I may choose to go into Public Relations, that's why I have decided to major in Public Relation. If I have my way, I will set up a public relations firm, then, I will use my stardom to boost the company (laughs).
When are you retiring?
Very soon. I intend to retire very soon by the grace of God. All things being equal, by the time I'm 60.
What is motivating you into establishing an arts studio, Is it the money or what?
No. It's not about the money. If I have the wherewithal, I want to leave a lasting legacy behind, so, that people will know that I have passed through this way before. I want to leave a landmark. I will establish and found an institute in which actors, directors and technical crews can be trained, if I have my way and if I have what it takes to do that. Those who go through that institution will have an opportunity to learn and at least someone will say even if I did not train directly under Dele Odule, I trained an establishment that belongs to him. That is what I want to achieve. Like I said, I am not one of those people that believes so much in acquiring wealth that I have to be stinkingly rich, no. I like to be comfortable and I want to be comfortable. That is all I care about.
If you're given a political appointment in Nigeria, would you take it?
I will. If I know I will be able to serve the people then, I will take it. But if it is only that somebody says my friend, this is a way for you to make money, come and join me, then I may not take it. But if it's a genuine offer that I can make an impact, I will gladly take it.
Speaking of politics, with your 33 years in the industry and your other life experience, do you consider yourself better qualified as ANTP president?
Yeah!I have what it takes. Like I have told you, my over 30 years of experience in the industry qualifies me to lead the body successfully. Then, my involvement as an administrator in the association too qualifies me to lead the association. It's not about waking one morning and saying I want to lead the association, no. I have been in the system for some period. I was the Secretary General of the association in the Ogun State chapter in 1982; I conducted the election that actually brought in the first elected president of this association, Ade Love, because it was after Baba Ogunde that Ade Love came in, Baba Ogunde was not elected but he was picked by the elders and he was made the life president. So, he was there until he died. But the first elected president of the Association of Theatre Arts Practitioners in 1990-91, I happened to be the head of that electoral committee. You see, I have been working in different areas of this association that could help me if I want to actually lead the association. And I actually became the vice president of the association in 1995, when Baba Jimoh Aliu was the president; I also became the deputy president of the association in 2006. So with all these, I have got enough experience to take the association to the next level.
What are your plans for the association if you eventually win the election as you have not spoken about your plan for it in recent times?
Yes, this happened because of the peculiarity of politicians telling the public what they are going to do when they get there and by the time they get there, they don't do it again. So, I don't want anybody to see me as one of those people. What I will just tell whoever asks me is that when I get to the bridge, I shall cross it. I am not going there because I want people to refer to me as the president, no. What I have gained in my career, the stardom I have attained so far and that I have enjoyed, the respect are enough for me. The presidency thing is not a big deal but I know I have the wherewithal to lead the association. I believe that I am qualified enough to lead the association. You see, I don't believe in emi ni, I believe in awa ni. I believe in collective cooperation to achieve our goals. So, I want to bring together brains within the association to lead it to the next level. It's not that I want to be at the forefront of the association, dictating, no.
You've been saying that you're not stepping down for anybody. Are you still insisting on that?
That I am not stepping down?
Yes.
Ah! I cannot step down for nobody! Why should I step down? I'll disappoint a lot of people if I make that attempt.
You once said and I quote "the battle is not about me, it's about the future of the ANTP."
Exactly.
Now, with your insistence that you cannot step down for anybody, some people are wondering if your quest for the presidency isn't for the political power you stand to gain, otherwise, you'd step down if you're required to.
Who will tell me to step down? Because the thing is this, let me be frank with you, if some set of people come on and say Dele, step down, then, the question will be for who?
Ashaolu?
Ha! Ashaolu Ke? For who is the question? If they tell me for Akinwunmi Ishola, I will gladly step down. If for Kola Oyewo, I will step down. I will say ok, he has what it takes. He's a practicising theatre arts professional, he's educated, he has the dignity, he deserves it, I will step down. Say Antar Laniyan, I will step down. He knows the job, he practices, he's been in the industry for a while, he knows where the pains are, he has the education, I will say ok, I will step down, but not for the likes of Ashaolu. What has he got that I will step down for him? I will be mortgaging the future of the of the industry if I have to step down for such a person . Maybe you don't know one fact, this person is not much into that practice, he has not been functioning in any way. Ok, it is one thing to say I am not an actor, I prefer to manage productions. How many productions has he managed? He should tell the world one. Ok, I am not an actor, I prefer to be a director. How many productions has he directed? I am not into artistic anything, ok why are you interested? I am lettered, what's your qualification? I am well read, and then tell me your qualification? You have a diploma in Theatre Arts and that is all, nothing more. He calls himself Dr Comrade Ashaolu, does he know the meaning of comrade? I don't always love to talk about Ashaolu because I just feel I will be making him unnecessarily popular.
The younger ones like Yemi Solade, Saidi Balogun are signifying interest in the presidency if you two will not resolve your issues on time. What's your take on this, considering fact that the association has been without a president for too long?
That is exactly what I have been saying! You don't impose anybody on anybody. Allow everybody to vote and bring in their leader. They know the kind of leader they want. Let them vote their leader. I am not saying I have to be voted for compulsorily or forcefully. All I am saying is to allow whoever is interested to come on board, allow those who are supposed to vote, vote for their leaders. It's as simple as ABC. That was the beginning of the fight.
It is generally believed that you're stubborn, unruly and too difficult to control…
Why do you want to control me? Tell me why you want to control me. Then, what is the definition of unruly. I want to rule people and you're saying you want to rule me. I am not saying you should rule me and you're saying you want to rule me. Do you rule a ruler? A ruler rules. It's not for you to rule a ruler. They would have chosen another good word like he doesn't take to advice, that is more of it. And even if they had said that, it is too bad. Who has advised me that I have turned down his advise? It is the question? Who among them has…it is just because they believe I am too powerful for them. Why? He has the stardom. I'm telling you the thing now it's just that they don't know how to say it. Stardom, he has it. Connection, he has. Education, he has it. Experience, he has it. Then where do we say he doesn't know it so that we will become champion there? But they have forgotten that even that I am not interested.
Let's talk about this drug trafficking saga involving Baba Suwe as a suspect, considering you once defended him that his frequent visit overseas doesn't translate into drug trafficking, now that he was arrested by NDLEA as a suspect ?
You have just said it… being a suspect. Anybody can be suspected, it is now for you now to defend your innocence. Look, that is why I said our people need to be oriented. They need this orientation. I will say because of some things that they do that is very unusual for someone who is a theatre arts practitioner, people are bound to suspect them. For instance, we don't praise sing. Every job has its ethics. Whatever we say, whichever character we are asked to interprete has nothing to do with anybody. It is fictitious. But by the time you now start referring to some set of people, praise singing them, you're deviating from the ethics of the job. And that is why I have said earlier that we will cleanse the system, give them proper orientation, we will let them know the nitty gritty of the job so that they don't deviate. Ok, when you start praising the likes of Oyenusi, the likes of Anini, you start praising the likes of Babatunde Folorunso, even if you're not an armed robber, people will now begin to look at you as abi, he's an armed robber. And you may not be. Now let me go back to the Baba Suwe thing. Until is something is found on him and there is concrete evidence, I will see him as innocent. Anybody can be suspect.
With Baba Suwe and other cases involving Wunmi and some other people in the industry, drug cases seem to be a recurrent …?
No, it's not a recurrent thing. It is just because of the proximity between a public figure and the public. Many fabric dealers have been involved in drug trafficking and it didn't generate publicity. A lot of drivers have been caught for same offence, yet not many people know about them because they are not public figures but ours become public consumption because of the proximity, because of our closeness to the public. If you're just mentioning Wunmi for instance, you're mentioning Baba Suwe, talk about another person, I will count 10 other people who are involved in drugs that are not from the industry. It is just because of the proximity. It is also the same thing when our members, or a member, let me put it like that dies and people say why are they dying like this. Let them go to the UCH, they will see a lot of people dying every day and it will not attract any publicity because there is no cause for it. But because we are very close to the people, ours become public consumption.