I'LL ACT NUDE FOR GOOD PRICE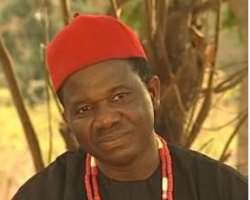 Gada
The name Chiwetalu Agu sure rings a bell in Nigeria and beyond the borders. This is an actor, who has carved a niche for himself in the Nigerian movie industry. He stands out with his wit and humour. Indeed, one of the things that set him apart from other actors is his invention of cliques in every film he features.
In this interview, Agu told his incredible story. He talked about role he plays in movies, family and how he comes about the some of the funny things he says, among others.
You also say funny things in your movies. Why's this?
Well, to be honest with you, I travel far to get those words. When I say far I mean, spiritually far. I'm not bragging, but if you check the recent history nobody does it, both the living and the dead. Based on my wonderful interpretation of roles and the constant use of different words in movies, I got the best actor award in 2002, and then I got another one from Christian Movies Association of Nigeria in 2009 for best actor of the year too. I do a lot to make people happy and also pass a message across.
Each time people see my new movies, they rush to watch it because of their eagerness to find out my latest discovery. They know quite well that I don't repeat cliché; it is totally something different in all my movies. That's why I proudly tell you that I meet with my ancestors to get all those words. What I do is unique. You can't get it from an ordinary human being. Somethin like atamu nshi kporonku (I have eaten dried feaces) does not come just like that. It is the kind of thing you would associate with our ancient gods, but they are not living with us; so I have to visit them to get inspirations. Each new one I get, I put down in my record book. When I use any, I cancel, to avoid a repeat. That's how I make sure each movie comes with its own unique cliché.
Are you still married?
Yes, I am happily married and I have five grown up kids. I have three boys and two girls. Amokwe town, in Udi Local Government Area of Enugu State, my town, has a common boundary with that of my colleague, Nkem Owoh.
Did you have all your kids from one woman?
Yes, of course. I am not a polygamist and I don't pray to be one. Naturally, one woman is not easy to satisfy in all ramifications, not to mention two. Then being a wife of a movie star and seeing your husband act or pose for photographs with lots of women around him is enough reason to stir jealousy. What then would happen when you have them more than one at home? So I would advise movie actors to maintain one wife, so they would live longer.
Does your wife display any of such acts?
I am telling you what women naturally do. They all are caught in that web of jealousy. You, as a journalist, if you are interviewing me with maybe another colleague of yours and I am answering her questions, disregarding yours, you would feel jealous and would do anything to get my full attention. It might even lead to two of you fighting over me.
There's a rumour that you have kids from different women and also womanises a lot…
Me, Chiwetalu Agu has children from different women? Ofe akwu agba uka (Banga soup has soured). Well, if you must know, I came from a very strong Christian background. My parents built in us the strong fear of God and to follow his way. So none of my family member married more than one wife.
Would you want any of your children to join the movie industry?
Of course, I am preparing them for a takeover. I have a file called Nollywood. In this files I store all my movie ideas and concepts waiting for the right time. The record I have been packaging for over two decades, they would draw inspiration from it to storm the entertainment world in the nearest future. All my kids have unique talents that they have been exploring, in a little way, but in no time they would be set to hit the big screen.
Would they wait until you fully retire before taking over?
What? Haven't you heard that actors don't retire? In other fields, by the time you clock 60, you are due for retirement, but it's totally a different thing in the movie world. You continue acting till death. Even the day you are going to die, you would still use it as part of acting. Or haven't you seen old people lying on the bed acting? So there's no retirement for me. Even in my next world, I will come back as a professional actor because it has given me many things, fame, fortune and what have you. I would keep being an entertaining figure every day of my life. I would combine music, acting, drama etc.
You're also a musician. You have an album in your name. Since then we haven't heard anything again?
Well, that song wasn't mine. I mimed it. Someone else wrote the song and needed a famous face to sing it to help boost the music. So that was how I was contacted. It was on contract, not my original song. I was never part of the writing of any of those songs; my part was to mime, get paid and that all.
What are the challenges you face in interpreting roles?
God has so blessed me that I have never found any character challenging. I interpret the roles wonderfully and make use of my lines effectively. Even the things I say, nobody writes them so the producers believe I can go the extra mile to give them the best and I do just that. That's the same reason they always come back for me. I can boastfully say that from my last count, I have done over 376 productions, right from the time of Things Fall Apart. There's no record that can beat that in Nollywood today. I am also grateful to God that most elderly people are using my movies to calm their blood pressure. A doctor based in Abuja once confided in me that they use my movies to cure and calm their patients' HBP (high blood pressure). They slot in the movies and allow them laugh away their sorrows. Within a few weeks they would be back to normal, with little or no drugs.
I understand you don't act with scripts?
Well, the scripts act as a guide, but the rest of the assignment is left for me. I try as much as I can to assist the producer and directors because their work is not easy at all. And most of them are amateurs; so I do most of my assignments well in delivering the best I can with or without their guidance.
The standard of Nigerian movies is becoming so poor that most Nigerians opt for international and Gollywood movies. What do you think is the way forward in correcting that?
Well, Ghanaians are very desperate; they can act nude because they don't see anything wrong in it. And with that they are really trying to push our Nigerian actress off the scene. An instance is the recent poster of a movie I saw in Asaba where the so-called very good girl, Chioma Chukwuka-Akpotha, was half-clad. To my greatest shock, she was wearing only pant and bra in the poster. Chioma really went bizarre, I must admit. I don't know if her husband actually approved of that posture. So you see Nigerian actresses are trying to do what Ghanaians are addicted to in order to bounce back to reckoning. That notwithstanding, I give kudos to her because if one wants to remain relevant in the Nollywood, you have to stand on two feet and do whatsoever it takes to put you in place. I am also advising husbands of any actress to be very understanding and allow them spread their net wide.
So are you saying that you don't see anything in actresses acting nude, both married ones?
Well, I wouldn't say I support acting nude for nudity sake, but if the character you are meant to play has something to do with being naked, then go ahead and show the world how good you are in interpreting a character. For example, can one play a real market mad woman with pulling off her clothes? I have seen a mad woman who was taking bath in a gutter in an expressway. As she bent to scoop water with her hands from the gutter, she doesn't really care if her anus was facing the north or south. And when she was washing her breasts with same dirty water, she didn't care if the breasts were standing erect or surrendered in defeat. She was just doing her thing. So if you have to do all that in the course of acting it's fine; so long as they pay you handsomely.
Would you act nude?
Yeah, why not, as long as the pay is right. I would give in whatever it takes to interpret the role. Yes, tongues would wag but before a week or two everybody would have forgotten what happened and your money would be smiling in your account. That means that our profession is paying fine. If I act nude today, I have a very understanding family, kindred, community and friends; they all know what it takes to be a versatile actor. I was conferred a Chief by my Igwe; so I am now addressed as Chief Chiwetalu Agu, the Oke mmiri na ezoluoha of Amokwe town, based on my numerous achievements.