The Video Shoot That Stopped Muna Gee's Wedding (In Pictures)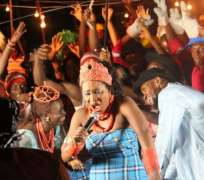 On Tuesday November 1, we reported that Songstress, Muma Gee has put on hold her wedding plans that was suppose to take place later this month, for a vidoe shoot of her her song 'Portharcourt Is Back' from her album.
We can now exclusively give you some photoshoots from the video shoot of the song.
The video is directed by one of the best hands in the game, Akin Bakare, who is well known as Ak One.
Some of his works are Terry G's TROWAY and FREE MADNESS videos, Africa China's IF YOU LOVE SOMEBODY and many others.