Riots Break Out Again In Central Nigerian Town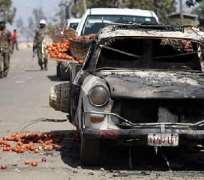 Residents angered by an attack on a church rioted Friday in a central Nigeria town at the center of post-election violence earlier this year, with at least two people already dead, police officials said.
The riot began in rural Kaduna state in the town of Zonkwa, where 300 people died following the April 16 presidential election that saw sectarian violence. The area sits on the dividing line between Nigeria's mostly Christian south and Muslim north.
A senior police official in the town reached by The Associated Press confirmed the ongoing fighting but declined to comment further. A commotion could be heard on the line before the police officer hung up.
Yemi Ajayi, a national police spokesman, said reports of rioting had reached the country's federal police headquarters in Abuja. He had no further details.
The violence apparently began after an attack on a church Thursday night in Tabak, a village near Zonkwa, Kaduna state police spokesman Aminu Lawal said. Two people died in that attack, while 12 others were injured, police said.
The fighting comes ahead of Eid al-Adha, or the feast of sacrifice, when Muslims around the world slaughter sheep and cattle in remembrance of Abraham's near-sacrifice of his son. Police elsewhere in the country had warned of violence ahead of the celebration in Nigeria, a country of more than 160 million.
Thousands have been killed in religious violence in the past decade in Nigeria.
In Kaduna alone, more than 2,000 died as the government moved to enact Islamic Shariah law in 2000. In 2002, rioting over a newspaper article suggesting the prophet Muhammad would have married a Miss World pageant contestant killed dozens here.
But the roots of the sectarian conflict across the north often have more to do with struggles for political and economic dominance.
In April, mobs armed with machetes and poison-tipped arrows took over streets in the capital Kaduna and the state's rural countryside after an election tribunal declared President Goodluck Jonathan the winner. Followers of his main opponent, former military ruler Muhammadu Buhari, a Muslim, quickly alleged the vote had been rigged, though observers largely declared the vote fair.
ASSOCIATED PRESS (AP).