The $200m Entertainment Intervention Fund Is An Imaginary Money—KUSH.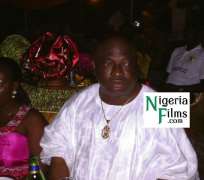 Early this year, President Goodluck Ebele Jonathan was in Lagos for his Bring Back the Book initiative campaign at Eko Hotels and Suites. The event was part of his plans in getting people to support his election as a substantive president of Nigeria, as he was then an acting president, and the polls were getting near.
At the event, where youth and the entertainment bigwigs attended in large number, the President, then an acting President promised an intervention fund for the entertainment industry in the sum of $200m, as a support to the industry, which has involved in making many youth of the country superstars.
But since the said fund has been announced to the industry, little or no success has been heard about anyone to have been able to access the money meant for them, as a form of loans for the use of the entertainment industry and its stakeholders. Many heads have rolled and enemies made because of the pronouncement.
But according to Olurotimi Aina Kusoro, the man in control of High Waves Video Marts, a top movie marketing company, he asked, "do you know what great trouble that said money has cause the industry?"
"There are some people in the industry that are superstars when it comes to government matters, the Amaka Igwes, the Zeb Ejiros, the Jide Kosokos and the Adebayo Salamis (Oga Bello). If these people have not been able to access this money, then nobody in Nigeria can access it."
While stating further the reason he made the above assertion, this Nigerian-American citizen said, "the money is not kept in the office of the presidency, but attached to a bank called the Bank of Industry (BoI), when you go there; they ask you for your mother's coffin receipt and other funny documents. How many Nigerians have lands and other such properties as collaterals?"
"The money is an abstract money or better still, money on the paper. If the money meant for the ministry of education could be on paper, how much more money meant for the entertainment industry," he concluded.
At the moment, many industry stakeholders are not happy with the way they have not been able to gain access to the money that was supposed to be for them. For now, all fingers are still crossed, waiting to hear the news of the first beneficiary of the $200m entertainment intervention fund promised by the president.
© 2011 Nollywoodgists.com. All rights reserved. This material may not be published, broadcast, rewritten or redistributed without the express written consent of the publisher