BASTARDIZING GOVERNANCE THROUGH INDISCRIMINATE APPOINTMENTS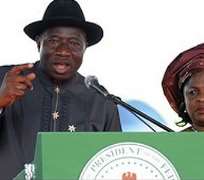 On November 1st, 2011, President Jonathan had remarked that: "society will not ordinarily want to make changes, especially, when they don't even know if the changes will help them or it will not help them. But changes must be made for every society to grow." Wonderful sermon, I must confess! In the light of Mr. President's new-found ordination as an apostle of societal change and transformation, one would have, ordinarily, expected that his unction for change should have mortified his flesh and fortified his spirit to resist the tantalizing temptation of political prodigality. Alas, while Nigerians are yet to digest the full import of the President's "change" message, he had already confirmed the appointment of four new aides as follows: Senator Ben Obi as Special Adviser on Inter-party Affairs; Alhaji Ahmed Ali Gulak as Special Adviser on Political Matters; Mrs. Mariam Nnaemeka Comfort Ahmadu Ali as Special Adviser on Inter-government Affairs; while Prof. Tamuno-Preye Aguobenebo carted away the reward as Special Adviser on Economic Matters, Vice President's Office.
It is understandable that the President reserves the right to recruit, by way of appointments, credible individuals who would assist him in the arduous task of governance. Nevertheless, when one ruminates on this latest round of appointments and the portfolios attached to them, it reveals one salient oddity: they are puerile, vacuous, profligate and essentially dictated by considerations that have nothing to do with good governance or national interest, but everything to do with a maddening craze to consolidate power by making a gesture of "appeasing the gods of the evil forest, and necessarily, holding a candle to the devil."
It is important to recall that before now, the President had committed similar misstep by making political appointments that are as reckless as they are phoney. First was the appointment of Mrs. Bianca Ojukwu as Senior Special Assistant on Diaspora. And I ask: which Diaspora? Is it the one in Nnewi, Damascus, Ouagadougou, or Porto Rico? This appointment is in spite of the fact that we have a full-fledged Ministry of Foreign Affairs and various Foreign Embassies that are begging for presidential attention in terms of funding and other necessaries. Secondly, no sooner had Mr. President appointed Dr. Reuben Abati as his Special Assistant on Media and Publicity than he also appointed Reno Omokri as his Special Assistant on New Media. Even if we are to assume that Reuben Abati is so rustic and so allergic to the gadgets of modernity that he cannot log on to the internet or open President Jonathan's wall on facebook or even tweet, wouldn't it have been saner and cost-effective to create a desk under his office and engage a professional to perform the function of tweeting and face-booking.
What appears to be even more disconsolate and painfully rattling about President Jonathan's manifest propensity to turn the machinery of governance into a "mammy-market" affair by engaging in indiscriminate appointments, is the associated costs that go with maintaining and servicing such nebulous appointments as well as its negative implication for our beggarly economy. It is a mark of indescribable hypocrisy and mindless insensitivity for our government to persist in telling Nigerians to tighten their belts and brace up for the purgatorial, temporary pain that will follow the removal of fuel subsidy, while, on the other hand, they are busy frolicking in obscene ostentation and ejaculating political appointments with reckless thoughtlessness. How can we sustain, or even rationalize, the situation of having Mr. President set up a Committee headed by Steve Oronsanye to recommend ways of downsizing the over-bloated number of government parastatals, while Mr. President continues to midwife the procreation of appointive positions, most often with overlapping responsibilities.
While I agree with Mr. President that "change must be made for every society go grow," I hasten to inform him that Nigerians are generally agreed that: if there is anyone who desperately needs to change, it is him and his brigade of political choreographers. And the time to do changing is now because we are running out of patience!
Written by Ugochukwu Raymond Ogubuariri. [email protected]
Disclaimer:

"The views/contents expressed in this article are the sole responsibility of

thewillnigeria.com

and do not necessarily reflect those of The Nigerian Voice. The Nigerian Voice will not be responsible or liable for any inaccurate or incorrect statements contained in this article."
Articles by thewillnigeria.com