PDP NWC DISQUALIFIES SYLVA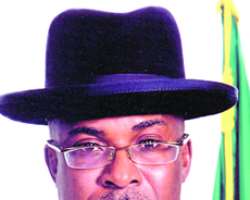 Sylva
The Peoples Democratic Party (PDP)  National Working Committee (NWC)  yesterday came out with an official pronouncement on the fate of its aspirants, seeking clearance to contest the party's ticket for the Bayelsa governorship election.
Four of the aspirants were cleared for the party's primary, according to a statement signed by the party's National Publicity Secretary, Prof. Rufai Ahmed Alkali in what the party called first batch of aspirants cleared.
The names of those cleared were Oruta Justine Boloubo,  Henry Seriake Dickson,   Enai Christopher Fullpower  and Kalango Michael Youppele.
The name of the sitting Governor, Timpire Sylva, who is also seeking the party's ticket for a fresh term was missing on the list. Also missing on the list were former director-general of the Nigerian Television Authority and chief executive of Silverbird Communication, Ben Murray-Bruce and former managing director of Niger Delta Development Commission, (NDDC), Chief Timi Alaibe.
Daily Sun findings revealed that the PDP NWC premised its position on the recommendations of the Mrs. Biodun Olujimi 13-member Screening Appeal Panel.
According to the panel report dated October 31 and addressed to the Acting National Chairman of the party, Alhaji Kawu Baraje,  Ben Murray-Bruce was disqualified,  based on his dual citizenship, which, he admitted, while another aspirant,  Doukpola Francis Amaebi had 'no documentary evidence of proper disengagement  from  previous public service employment.'
The panel indicted both Orufa Justine Bioubo and Ekiyegha Fred Korobido of not presenting tax receipt of 2008. Bolubo was also alleged to have made lump payment  of tax for 2009 and  2010.
The Olujimi panel acknowledged that it received petitions from Oracle Law Firm against Governor Timipre Sylva, alleging 'acts of threats to national security,  treasonable felonies and anti-party activities, levelled against Chief Timipre Sylva.''
On Governor Sylva, the panel acknowledged that 'security issues are beyond the scope of its assignment,' while it admitted that 'it lacks  adequate information and technical know how to arrive at a defendable decision.'' It therefore recommended that 'the NWC and elders of the party will look into  the matter and decide appropriately.''
Daily Sun  source  revealed that concerned PDP governors yesterday met with President Goodluck Jonathan who is being fingered as being behind the travails of the beleaguered Bayelsa governor.
'Since the PDP NWC has said it is releasing names of cleared aspirants in batches,  the president may be persuaded to allow Governor Sylva contest the party's governorship primary. We hope reason will  still prevail,'  the Daily Sun source argued.