Bayo Amusan's Marriage threatened: Lagos Perm Sec, Muri Okunola Fingered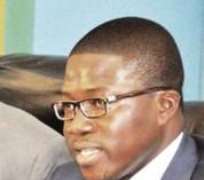 Guess what birds are saying in town? Birds are claiming Bayo Amusan brother of Tayo Amusan, the owner of the popular shopping mall;
The Palms is not at peace with his home. Reasons? Hakeem Muri Okunola (HMO), one of Asiwaju Ahmed Tinubu's aides turned Permanent Secretary of Lands at the Lagos State Ministry is sleeping with his wife, the beautiful Anu.
Bayo is one of the popular Amusan brothers while tayo is brother is well connected to Gen. Ibrahim Babangida and also telecoms and oil mogul, Mike Adenuga.
Now Bayo's marriage is under threat due to HMO's crazy libido.
In the past, HMO was once linked to the crack in the marriage of Muka, Bayo's brother. Stories in high places have it that HMO was having fun with Muka's wife back then, and now may have switched to Bayo's wife, Anu….we just hope this isn't true.