WAR IN LAGOS HOUSE:REMI TINUBU,JOKE ADEFULIRE BATTLE FIRST LADY ABIMBOLA FASHOLA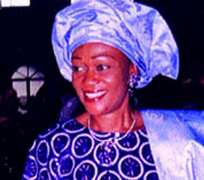 The tales flying over the relationship between ex Gov. Bola Tinubu's wife,Senator Oluremi Tinubu and Deputy Governor of Lagos,Hon.Joke Adefulire on one hand and the First Lady of the state,Chief Mrs.Abimbola Fashola,is not palatable at all.
Gist bearers are alleging that Remi Tinubu and her pal Deputy Gov.Adefulire are at daggers drawn against Fashola's wife.
Insiders say the battle developed because First Lady Abimbola a few months ago,just after Adefulire has been named as the Deputy Governorship candidate,confronted her at a function,with the comment that she (Adefulire) did not inform anyone that she wanted the Deputy Governorship job.This remark was alleged to have infuriated the Deputy Governor who reported the matter to her godmother,Senator Remi Tinubu.
Those who bear the gist say the First Lady was summoned to Bourdillon,Ikoyi the home of ACN leader,Asiwaju Tinubu where she was berated for her comments.
Those in the know say this incident is the main reason Abimbola Fashola is keeping away from the company of the Deputy Governor and her predecessor,Sen.Remi Tinubu.

ABIMBOLA FASHOLA

MRS ADEJOKE ADEFULIRE