Even when upset, people say I make them laugh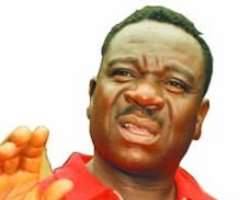 As a comedian and actor whose physique and actions always elicit humour, John Ikechukwu Okafor is a force to reckon with in Nollywood. In a recent encounter with http://nollywoodgists.com Okafor, who is better known as Mr Ibu spoke about his humble beginning, his breaktrough in acting and the looming crisis in Nollywood.
Background
I am John Ikechukwu Okafor. I hail from Ezeokwe-Amurri, in Nkanu West LGA, Enugu State. I attended Community Secondary School, Ezeokwe -Amurri. I proceeded to Sapele Technical College (STC). Afterwards I started struggling for survival since I had lost my father. The issue of going to the university became impossible despite the encouragement from some people of goodwill, that I should seek admission to the university. I ended up running part time studies at the Institute of Management and Technology (IMT), Enugu. I had a tough time at IMT since I was the one training myself. But at the end of the day, I was able to rise from the scratch and by God's grace, I have reached a certain stage where I can take care of myself.
The road to fame
I never had anything like that in mind, but in whatever I do I always remember what my father taught us - to always believe in God and that we should never lose hope, never give up.
How I started
I had it tough while growing up I used to trek from Ajao Estate to Festac, and from Festac to Iba, town. Because of the suffering I encountered then, I looked so old like my grandfather. It wasn't easy at all but I had to do it as a sacrifice to become what I am today
Becoming an actor
I started from behind the scene. But each of the productions I worked in, I usually took the role of somebody who may not be present. I liked doing this and after wards it, the producer may decide to add one or two scenes for me and that was how they discovered that I could act very well. I did this up till 1997, when I came into limelight in a film entitled Agony, I played the role of an imbecile in Agony, although it wasn't easy to interpret it. Yes. my anger usually makes people laugh even when I am very angry. I am always surprised at this. People said when they look at my face, it is the same face they see when I crack jokes, and when I am angry. So I don't know how to tell people I am angry. Maybe I should start by slapping people.
Nollywood
Hollywood and Bollywood which are being supported by governments of America and India, Nollywood is a child without parents. We are in the wilderness. We are still at the scratch. We are trying to pick from the desert. At the moment, the industry is on its own and that is why pirates are dancing on our sweat. It is unfortunate. We are walking without cloths on our bodies but by the special grace of God, and because of the bundle of talents we have in the industry, I know we shall arrive at our destination.
How to rescue Nollywood
Good packaging is very important. If we have a film village today, and we can't manage it, then we will blame ourselves. An actor is supposed to be riding a very flashy car. An actor is supposed to be flamboyant. An actor is supposed to be popular such that where ever he goes, the crowd would welcome him. And that is the glamour and the dividends we receive. The government needs to help us by creating a film village with good facilities that can make us produce better movies. In Hollywood and Bollywood, they have structures on the ground. Here we don't have any structure or facility.
Crisis in Actors' Guild
Even in the Guild (Actors Guild of Nigeria), we are not so much proud of the people who are leading us. There was a time the Lagos State Government offered us a piece of land but I don't know if this was followed closely to ensure that we claim the property. Up till this moment, nobody can give accounts of that land. The executives of the guild is even a problem. We are just coming out of the last administration of Ejike Asiegbu and we are trying to install another one. The government of Ejike was characterized by so many problems.
But he should have learnt to leave when the ovation was loudest. Already, he has made a name. He is a hero and a star. During his administration, he got us the first National Headquarters and I give him kudos. I wouldn't want him to dent his administration by trying to drag what does not belong to him. The Actors Guild is nobody's property. We are the organizers. We are the followers.
We install whoever is supposed to be there. Zack Orji was once president of our Guild but when he was told to stop, that he was too slow, he stepped aside and, today he has reputation. He can go to any office and talk to anyone in the Actors Guild or in Nollywood. But if you make enemies, you would find it very difficult to talk to anybody. But we are happy another election is being conducted right now. After that, somebody would be installed as president and the Actors Guild would kick off again.
Marital status
I am married. My first son will be 20 years on February 14th 2010. On October 19, 2010, my second son would be 16. My daughter and the last one are between 8 and 6 years old.
Success story
Why not? I am healthy and my name is up in the industry. What is it that God has not done for me? When you look at my humble beginning, he has done a lot for me. I am not hungry but I am not so rich.
Message for aspiring artistes
They should be ready to work hard and sacrifice one or two things.