Adaora UKOH, Mary URANTA amongst others receives honorary youthambassador awards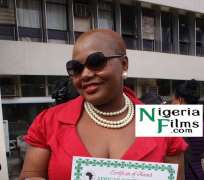 On the 18th 0ctober 2011, at the Banquet Hall, Nigeria Institute of international Affairs, 13-15 Kofo Abayomi st, Victoria Island, Lagos , both of them received the AFRICAN YOUTH AMBASSADOR LEADERSHIP AWARDS amongst others for their immense contribution into the nollywood industry as role models and ambassador to the youths. the award came with the plagues and Gold plated medals and certificate inclusive. in attendance where governors, chief executives and traditional rulers whom have been formal recipients of the awards.
Adaora Ukoh is slated to host the forthcoming anniversary Foundation lectures convention coming up early next year in KENYA titled DEMOCRATIC SUSTAINABILTY IN AFRICA 2012......
Congrats Adaora Ukoh you are sure a role model to the youths