FROM PITCH TO PULPIT: EX-EAGLES STARS TURNED SCOUTS FOR GOD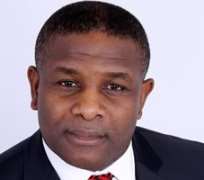 Athletes are known for their flamboyant lifestyle given the attention their stardom attracts to their personalities. Talk about Diego Maradona, David Beckham, Ruud Gullit and current rave of the moment, Lionel Messi to mention a few. They never stopped hugging the headlines because of the attention they enjoy.
The life of Nigerian players, who hold their own, is no different, especially for many of them who have made names for themselves. Former Super Eagles' stars like David Ngodigha, Alloy Agu, Peterside Idah, Taribo West and Fatai Atere have one thing in common in this regard. Wait for it…. They are ordained men of God, who preach the gospel and are not ashamed to be identified as men in cassock.
Welcome to the world of former Eagles' players, who rather than take to coaching on a full time basis, prefer to win souls for Christ on the pulpit. As footballers in their days, they played in different parts of the world and were adored by fans. Today, they are still admired, not just by football fans alone, but also by their brethren in the Lord.
Fatai Atere
In his days, he was a key factor for the Golden Eaglets in the 1st Kodak Under-17 World Cup in China. He was a part of the team that won the Cup by defeating West Germany 2-0 in the final. He captained the Golden Eaglets in the Canadian Under-16 World Championship two years later and the team became the runner up to USSR.
Below, however, is what runs through his mind today as he ministers to his flock in America: 'Brethren let the law of our Lord be in our mouth and let no iniquity be found in our lips.
'If we fear God, He will surely give us His covenant of life and peace. Let His praise fill our souls in the name of Jesus Christ our Saviour… Amen!'
Atere is today a pastor with Cherubim and Seraphim Movement (Ayo ni o).
In his active days in football, Atere, now in America, played for the Flying Eagles almost all over Africa, particularly in the ECOWAS Cup in Burkina Faso in 1987. He is convinced that God has made him an instrument in His vineyard.
On his stake in football, Atere said working in the Lord's vineyard has never been a distraction to him when it comes to football.
'I have an advanced national certificate in coaching and I know that one day I will coach the Super Eagles to win the World Cup. Being an apostle has nothing to do with the game, when the time is right, I will be there. Thanks for those great days. But my service to God is sure.'
Peterside Idah
Former Super Eagles' goalkeeper, Idah is a regular analyst on Supersports. He is based in South Africa, where he took to preaching and winning souls after his playing career.
Idah is the overseer of Christ Ambassadors Church in South Africa and he said: 'We seek to share the love of Christ with one another and magnify the name of Jesus Christ. It is our goal to be tools for the work of God as we continue in your spiritual journey.'
Pastor Idah noted that he does not feel ashamed doing what God assigned him to do.
'I'm proud that I have seen the light and I desire by His grace to lead others to where I found peace.'
Pastor Taribo West
The calling to become a pastor came to him in Italy, where he owns a church with branches in Nigeria and Liberia.
Jonathan Wilson of The Observer, London, in an article back in 2002, said that for almost five years, football came a distant second in West's life.
'He is obsessed with his God-given mission to help the homeless people of Milan, and football is what helps him along the way. Most of the money he earns from the game – and it has been plenty in a nine-year career at Auxerre, Inter, Derby County and Kaiserslautern – is ploughed into the church, named Shelter in the Storm.'
To his mind, West has twice been saved – football plucked him from a life of crime and inter-gang fighting, and thereafter, God led him from being 'an arrogant football star, who lived his life through rose-tinted glasses' to a committed Christian, who wants only to help those less fortunate than him. West's early life was far from rose-tinted.'
When West's sister, Patient, an evangelist, paid a surprised visit to his new home in Milan, it changed his life.
'I opened the door and before I had the chance to say I was glad to see her, she said: 'You must be strong to live in a house like this.' She told me the house had a bad aura and asked what kind of rituals I had been performing. If she hadn't been my sister,' West said, 'I would have kicked her out.
'Like a lot of footballers, I was very superstitious and before every game, I would light a candle and hold a magical stone a friend brought for me from Israel. My sister said that she could feel occult energies, and she said she could see two dogs – one white and one black – fighting in my house.
'To be honest, I was getting a bit impatient by then because I had to be at training.'
When West returned from training, his sister had more news. While he was out, she had slept and had had a vivid dream of purity.
'I realised then that I needed God's help,' West admitted. He knelt down with his sister and prayed, and as they did, he said, all the drawers in the house began to open and shut by themselves.
'I thought it might be just the wind, but as that thought entered my head, all the doors began to bang as well. It was like something from a bad film, but I knew it was reality. I experienced a warm feeling inside and then, my sister turned to me and said: 'Taribo, you will be a pastor too.''
He is; and his nickname in the national team was 'Pastor'. His sister gave him tapes of a preacher based in London, Pastor Ayo Don-Dawodu, whose sermons confirmed West's faith and persuaded him to establish his Shelter in the Storm Ministry in Affori, a northern suburb of Milan. A two-hour sermon by Don-Dawodu formed the centrepiece of the celebrations, which ultimately ended West's Kaiserslautern career.
Now in Nigeria, West holds crusades in different parts of the country using his popularity as a player to win concerts.
Alloy Agu
Another ex-goalkeeper who in deed served Nigeria is Alloy Agu. He got his baptism of fire in world qualifying game against Cameroon in Yaounde after David Ngodigha was involved in a terrible collision with an opponent. Though currently with the Dream Team V, Alloy said that God has always been his strength and he had always known Him.
'I use to lead in prayers in the teams I played for and when I eventually travelled to Canada to play, I felt I had a calling. By the time I moved over to the USA with the Indiana Invaders, things changed for me completely. God told me to return to Nigeria and become a pastor.
'I was running a goalkeepers academy there in USA, but I had to leave it. Today, I am the pastor of Christ Divine Church of God. It was not easy for me to leave the team I was playing with at that time, but God was in charge and He has taken full control of my situation.'
On his return, he kept faith with God and he got a job to work with Daniel Amokachi at Nasarawa United, where he cultivated the act of fellowship in the team.
'My area of coaching is goalkeeping and I often tell my players that they owe their talent to God and as such, they must pray all the time for His grace. When Amokachi and I left Nasarawa United, we headed for Enyimba FC of Aba and we left a tradition of prayer with the team.
'I combine my coaching with preaching the word and the impact is great. At times, when I'm with the national team, my pastors do the job and when I'm free, I make myself available so that they can benefit from the fountain of God's life upon us.'
David Ngodigha
He is currently a deacon at the Living Faith Church, a.k.a. 'Winners Chapel' in Port Harcourt, Rivers State. The former goalkeeper said though he had always had God in his mind as a player, his life turned around in 1996 when a series of calamities befell him.
'I had left BCC Lions of Gboko at the end of 1995 season and had rejoined Sharks of Port Harcourt in 1996 from where I was to travel to South Africa for a new club, but it never materialised. I had a compound fracture, which ended my dream of going to South Africa and as if that was not enough, Allied Bank, with which I was banking, got distressed and all my money was trapped in it.
When I thought that my troubles were over, the girl I was dating and had planned to marry walked up to me and said that she was no longer interested in the relationship. Her reason was that she does not want to end up with a cripple for a husband.
'The entire situation left me disillusioned and I just didn't know what else to do. It was at that moment of my lowest ebbs that I surrendered totally to God and from that moment, my life changed. Today, I'm a living testimony of God's grace through Jesus Christ.'