VETERAN MOVIE MAKER,TUNDE KELANI PARTNERS WITH IRISH FILM MAKER TO LAUNCH FILM SCHOOL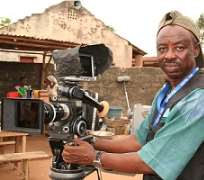 Nigerian ace film producer and director, Tunde Kelani is partnering with seasoned Irish filmmaker cashell horgan to float a new film training school AFTTA which stands for Advanced film and Television training Africa.
The film school is set to elevate the skills of Nigerian film and Television professionals.A press conference was recently held to unveil the partnership.
"Training of professionals had been an adhoc exercise over the last decade in Nigeria because just a few have the time, resources or inclination to plan for longer-term training"Tunde kelani said at the press conference.
"With AFTTA, we are offering the level of advanced training that would normally only be available in other distant countries and otherwise could not be affordable," Kelani said.
Tunde kelani has directed Nollywood hit movies like Oleku,Thunderbolt ,Abeni, Agogo ewo, campus queen and many more.